This post may contain affiliate links which won't change your price but will share some commission.
I'm starting a new recipe category – RR. It does not stand for Rachael Ray (especially since I rarely make her recipes). It stand for Rebecca's Recipes! As Rebecca and I create and make her recipes I'll share them…if they are worth sharing 🙂
This week we made "cheese chicken nuggets." It's a chicken nugget (her favorite) filled with cheese. I made them using two methods. They both worked fine. I cut up some chicken chunks. Then I pounded some of them thin and rolled them up with cheese inside. Some I just cut a slit in the side and stuffed with a chunk of cheese. Then I breaded them all and baked them. They tasted great! I was pretty rushed when making dinner, so I didn't do them as neatly as I would have liked and didn't get in as much cheese as I would have liked. But they were still great. I'll make them again for sure! I served them with homemade honey mustard.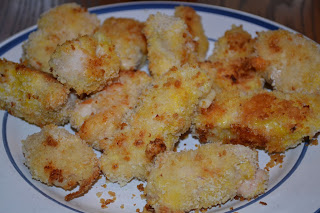 Cheese Chicken Nuggets
2 large chicken breasts
cheese, cut into strips or chinks or shredded (I used parmesan in some and white cheddar in others)
organic AP flour
panko
egg
seasoning of choice
Cut chicken into large chunks.
Method 1:
Pound chicken pieces very thin. Place small amount of cheese at one end and roll.
Method 2:
Cut large slit into chicken chunks. Stuff cheese inside.
Bread:
Coat in flour, then beaten egg, then seasoned panko or homemade bread crumbs.
Cook:
Place on coconut oil greased baking sheet. Drizzle with coconut oil. Bake at 400 for 25-30 minutes.
OR
Fry in a cast iron skillet in coconut oil/palm shortening/lard until crispy on all sides.