This post may contain affiliate links which won't change your price but will share some commission.
Rebecca and I spotted a delicous looking recipe in my Kiwi magazine this week. It sounded so easy that we decided to make it right away. It only has a few ingredients. It is so simple and so good!! Strawberry cream pops are a healthy, delicious treat. I gave one to Rebecca for breakfast yesterday! I always have homemade yogurt on hand. Strawberries are in season (and we have a ton that we just picked). And I happened to make a fresh batch of graham crackers this week. So it was the perfect time to try this recipe. I used a little bit of maple syrup and vanilla to flavor the yogurt. I also scaled back the recipe to just make four. These really are very good. It's kind of like strawberry cheesecake in a popsicle.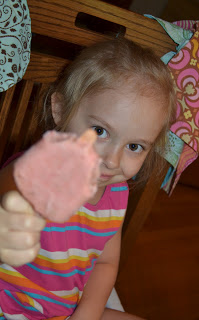 I am so excited now for blueberries to be available in a few weeks…bring on the blueberry cheesecake pops!!! I plan to make a batch with soaked graham crackers and maybe a little raw sour cream mixed in. I think I'll be having some popsicles for breakfast soon 🙂
This post is linked to Fight Back Friday and Fresh Bites Friday and Real Food Wednesdays.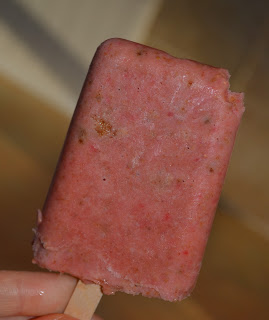 Strawberry Cream Pops
1 1/2 cups vanilla yogurt (I used homemade full fat yogurt w/ maple syrup and vanilla extract)
3/4 cups fresh or frozen strawberries hulled
3/4 cups crushed graham crackers (preferably homemade…even better use soaked)
Crush graham crackers into pea size pieces (I did this by pulsing them in the food processor a few times).
Combine yogurt and strawberries in a food processor. Process until strawberries break down and mixture turns light pink.
Pour yogurt mixture over graham crackers and mix.
Pour the mixture into 10 popsicle molds and freeze until solid.