This post may contain affiliate links which won't change your price but will share some commission.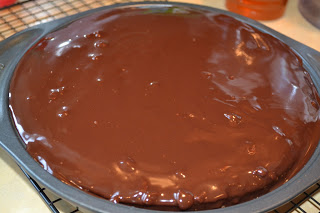 I finally tried my last recipe from my pile that has been on our breakfast nook for years. It's a Barefoot Contessa recipe that my mom cut out for me. It's a Valentine's recipe that she calls Chocolate Ganache Heart Cake and makes in a heart shaped pan. I just used a 9″ round cake pan. I also modified the recipe to use real ingredients…instead of 2 cups of Hershey's syrup! I used a combo of homemade hot fudge and cocoa powder and cane sugar as a substitute. I also just kept the cake in the pan when I poured the ganache on top to make it easier/less messy. Plus I didn't want to waste any of the ganache 🙂
This turned out awesome!! I could not stop taking little tastes of it all afternoon/evening 😛  I think I'll be paying for it today. But it is just so good. I can't have this around me too often. Justin and Rebecca (and Abram 😉 gave it great reviews as well. It's a dense, chocolaty, moist, gooey cake. Perfect topped with homemade chocolate and/or vanilla ice cream (Justin had his with both last night :). I'll post the recipe the way I made it.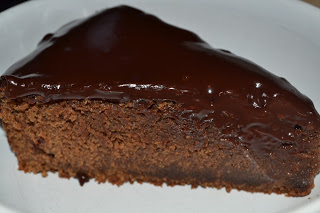 Chocolate Ganache Cake
1 stick unsalted butter at room temp
1 1/2 cups organic cane sugar
4 large eggs
8 oz. homemade chocolate sauce
1/2 cup cocoa powder
1 Tbsp. vanilla
1 cup organic AP flour
For the Ganache:
1/2 cup heavy cream
8 oz. good semi-sweet chocolate chips
1 tsp. instant coffee granules
Heat oven to 325. Butter and flour a 9″ cake pan (I always line mine with parchment paper to be sure the cake doesn't stick).
Cream the butter and sugar until light and fluffy. Add the eggs one at a time, mixing after each addition. Mix in the hot fudge, cocoa powder  and vanilla. Add the flour. Mix until just combined. Don't overbeat. Pour into the pan and bake about 45 minutes, until just set in the middle. Let cool thoroughly in the pan.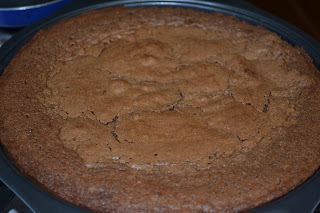 For the ganache, heat the cream, chocolate and coffee in a double boiler just until the chocolate melts and the ganache is smooth.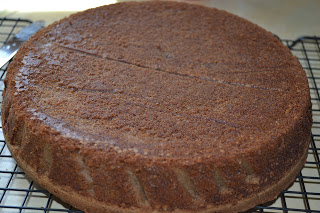 Place the cake upside down on a wire rack and pour the warm glaze evenly over the top. Transfer to a serving plate. Or just keep it in the pan and spread the ganache over top.
Do not refrigerate the cake after it's glazed.