This post may contain affiliate links which won't change your price but will share some commission.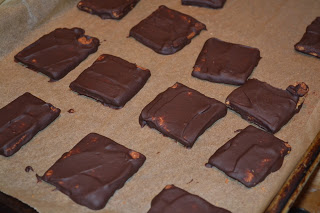 After making thin mint cookies last week I decided it would be fun to experiment with other cookie remakes. The chocolate mint reminded me of Keebler Grasshopper cookies. Before we started eating real food Justin ate those quite often. He also enjoyed the deluxe grahams. So yesterday I did a play on those. I made chocolate covered grahams and chocolate mint covered grahams. So delicous! And much healthier than something you'll eat out of a box. No HFCS. No hydrogenated oils. No vegetable oils. No refined sugars. Love it!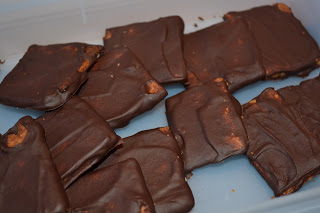 Homemade Deluxe Grahams and Deluxe Minty Grahams
Graham Crackers
2 cups whole wheat flour
1/2 cup cane sugar or sucanat
1 tsp. baking powder
1/2 tsp. baking soda
1/2 tsp. salt
1 tsp. cinnamon (you can use less. I like it with a lot)
6 Tbsp. honey
1/4 cup water
1 tsp. vanilla
1/2 cup butter or coconut oil (I generally use 1/4 cup of each), melted
Chocolate Coating
12 oz. semi-sweet chocolate
1/3 cup cream
peppermint oil (optional)
————————
Graham Crackers:
Mix the dry ingredients. Add the wet and mix until a ball of dough forms. If the dough is too try add more honey or butter/oil.
Split dough in half. Roll each half on parchment paper. Cut into squares with a pizza cutter. Place parchment paper on two baking sheets. Bake at 350 for about 15 minutes. Turn off oven. Leave crackers in the oven about 10 minutes to crisp. Remove from the oven and let cool completely.
Chocolate Coating:
Melt the chocolate and cream in a double boiler. Add a few drops of peppermint oil if you want chocolate mint grahams. Dip graham crackers into the chocolate, coating both sides. Place on a parchment lined baking sheet (I just reuse the pans/paper the graham crackers baked on). Place in the refrigerator to harden.
Store in an airtight container. If your house is warm you should store them in the refrigerator or freezer.