This post may contain affiliate links which won't change your price but will share some commission.
Last night I made my other Rachael Ray recipe that's been sitting in my recipe pile for several years. It's a very simple dish and really can be quite versatile depending on your tastes. I made it mostly according to the recipe. But I don't have any kale. I just sauteed some leaf lettuce from our garden instead. And I used chopped walnuts instead of sunflower seeds. We all really enjoyed this. Justin and Rebecca would rather not have the tomatoes. They just don't care for them. I think they are crazy 🙂  This is a great light summer meal. If I make it again I think I'll increase the amount of dressing on the rice. We could hardly taste it, and I used a half recipe of dressing for 1/5 the amount of rice.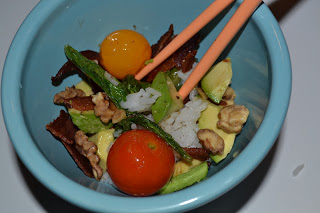 Cobb Style Rice Bowls
4 servings (RR servings…probably more for most people)
8 slices bacon
1 bunch kale, stemmed and thinly sliced (4 cups packed)
1 Tbsp. EVOO (I used coconut oil)
1 pt. grape tomatoes (I used cherry tomatoes)
2 tsp. salt
1 Tbsp. white wine vinegar (I used red wine…all I had)*
1 Tbsp. sugar
5 cups cooked brown rice (I used white rice)
1 avocado, thinly sliced (I cut it in chunks)
1/4 cup shelled sunflower seeds (I used chopped crispy walnuts)
In a large, heavy skillet, cook the bacon over medium heat until crisp, about 10 minutes; transfer to a paper towel and discard all but 1 tablespoon of the grease. Add the kale and 3 tablespoons water; cover and cook over medium to medium-low heat until tender, about 8 minutes.
Meanwhile, in a medium skillet, heat the olive oil. Add the tomatoes and 1 teaspoon salt and cook over medium heat, shaking the pan occasionally, until the tomatoes are softened, about 8 minutes. 
In a small bowl, mix the vinegar, sugar and remaining 1 teaspoon salt until dissolved; stir into the rice.* (I would make a lot more dressing for the rice to give it enough flavor)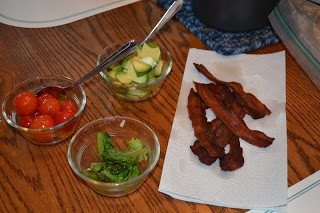 To serve, divide the rice among 4 bowls and layer with the kale, tomatoes, avocado, bacon and sunflower seeds.