This post may contain affiliate links which won't change your price but will share some commission.
Yesterday I tried another sourdough recipe from Cake Walk for brownies. This recipe is very simple to make. And the brownies are delicious! They definitely don't taste like sourdough.
I added a few chocolate chips instead of nuts. They turned out the slightest bit crumbly. Maybe next time I'll add an extra egg. But overall very good. Rebecca had no problems eating one 🙂  A healthier version of brownies – sourdough and whole wheat.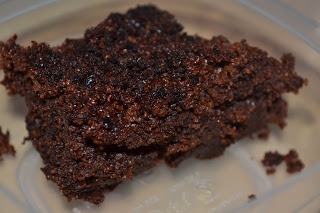 Sourdough Brownies
1/3 cup butter
1 cup cane sugar
2 oz. bittersweet chocolate (I used 1 oz. unsweetened and 1 oz. milk chocolate)
1 egg (I'll try 2 next time)
1/2 cup whole wheat flour
1/4 cup cocoa powder
1/2 cup sourdough starter
1/2 tsp. baking soda
1/2 tsp. salt
1 tsp. vanilla
(I added about 1 tsp. chocolate extract)
1/2 cup chopped nuts or chocolate chips (optional)
Heat oven to 375. Grease a 9×9 inch pan with butter and set aside.
Melt butter and chocolate over low heat in a small saucepan. Set aside to cool.
In a medium bowl, whisk together flour, cocoa powder, baking soda, salt and sugar and set aside.
Stir egg, sourdough starter and vanilla into cooled chocolate mixture, and mix until well blended.
Add wet mixture to dry mixture and stir gently to combine. Fold in nuts, and spread into prepared pan.
Bake 30 to 35 minutes or until the edges begin to pull away from pan. Let cool before serving.