This post may contain affiliate links which won't change your price but will share some commission.
Last week was kind of slow and long. We were home all day the last couple of days. And now that Abram has decided he only wants to climb on things and has mastered climbing pretty much every piece of furniture in about 3 seconds I can't leave his side. If you step out of his line of vision he thinks he's cleared for making trouble. So it's been a bit draining. Plus the usual stuff with Rebecca. And Justin had to work late a couple nights and go in to work Saturday morning. So no breaks. At least I did manage to get a lot of organizing and cleaning done yesterday. And I got my articles for Real Food and Health sent off. So I can get back to playing catch up on my blog. Now I'm trying to enjoy my few moments of peace and quiet. I know it won't last long.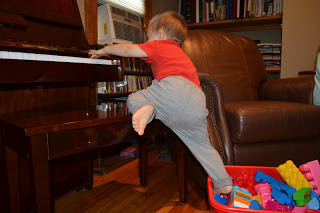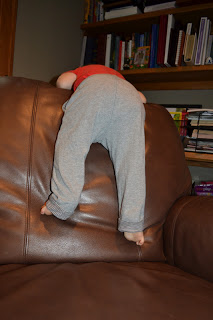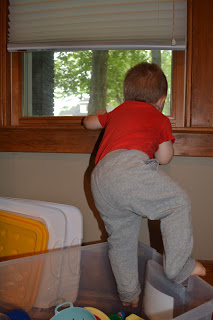 One big thing did happen last week – we had Rebecca's preschool open house. It went well. And we are very excited to start…tomorrow! But it also made me nervous. I'm not sure I'm ready to let my little girl go 😛  I have so many things that I'm anxious about/curious to see how they will go. Things that probably most parents don't really have to think about. Oddly enough the least of my concerns is her academics. I hope she enjoys learning Spanish and picks it up quickly. Knowing her she'll have it down in about a week 😛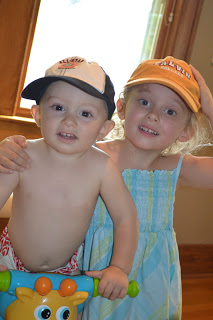 We also saw family for the holiday. We had a great time with everyone!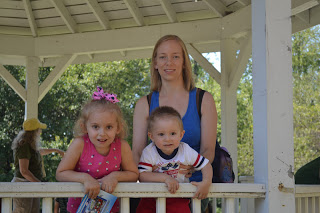 So this week will not be boring for sure. Today is church and a fall kick off potluck. Monday is milk pick up and the first day of preschool! I hope we can get our schedule/nap time, etc. worked out ok to get Rebecca dropped off and picked up on time. Tuesday is farmer's market and the first day of Kindermusik! Wednesday is groceries and preschool. Thursday I have a psychologist appointment. Friday is preschool. Saturday Rebecca and I are going to an American Girl tea party at a local church for our mommy/daughter date. I hope Abram does ok with all of the coming and going and fitting into Rebecca's schedule.
I did get started on a sewing project last week. I still need to finish cutting out the fabric. After that I think it will come together pretty quickly. Hopefully I'll have time this week.
I'm not planning to do too much in the kitchen this week. I want there to be as little mess and stress as possible for our first week of school. If I'm trying to do a million things it will make us all stressed…not what we want. I would like to make a new batch of soaked graham crackers and pesto. Maybe some more sour cream. I did not get around to making cinnamon rolls last week since I had to bake for the potluck. So maybe this week.
I hear my peace and quiet quickly coming to an end 🙁
I'm doing ok. My friend and I are going to start experimenting with supplements since the nutritional testing isn't proving to be too effective. I do think it pinpointed some areas of concern. But it's not showing which supplements will work best for me. There are a few reasons for that. Anyway, I'm hoping to start some new supplements soon when I can get together with my friend.
I did figure out that I am very sensitive to anything fermented. I've always had a strong reaction to alcohol. One small sip and my whole body tenses up. I realize now that my body does the same thing with anything fermented – fermented punch, vinegar, etc. It even does it if I use much vanilla in something! I don't know yet what it means, but I'm researching. I'm curious if it's related to my ability to absorb things.
I'm also looking more into gallbladder stuff. The nutritional testing showed that as an area of concern…and it's not something I've ever really looked into. But I really think I need to. I know I have troubles digesting fat (even though I know it is so healthy!) and I've had some sharp pains in my right side lately. I want to get this figured out soon if there really is a problem.
I better get on with the menu. I spent all week chipping away at my articles when my kids would allow. So I had to throw together a menu plan yesterday. Here's where it's at for now. It could change depending on how our week is going. It does have one Rebecca recipe. We're still working out the kinks/trying to figure out what she means 😛
————————-
S (prep eggs, church, potluck, prep smoothies)
  B – leftover egg cups
  L – potluck (bringing deviled eggs and brownies)
  D – goulash, corn, garlic toast
M (sewing, milk, ps, soak flour)
  B – smoothie, TBD from freezer
  D – beef stroganoff, beans
T (skim cream, make graham crackers, soak flour, sewing, fm, nutr. testing, KM)
  B – yogurt, granola, fruit
  D – fried fish, peas, roasted red potatoes
W (make pesto, make graham crackers, meijer, ps)
  B – smoothie, TBD from freezer
  D – zucchini, pepper, chicken stroganoff
Th (prep dinner, make ic?, sewing, Dr. V.)
  B – oatmeal
  D – (prep ahead) – split pea soup, soaked soft pretzels (from freezer)
F (ps, make sweet roll dough)
  B – TBD
  D – poached eggs, toast, roasted vegetables
S (clean, make cinnamon rolls, tea party)
  B – TBD
  D – RR – "noodle cream cakes" – chicken sour cream cake w/ noodles and bread crumbs on top