This post may contain affiliate links which won't change your price but will share some commission.
I'm finally playing catch up with some recipe posts after finishing all of my other writing assignments. Recently we had BLTs for dinner. But we made one addition…we added peanut butter! I know it sounds crazy and kind of gross. I thought the same thing when I stumbled on this idea at Simple Organized Living. But after reading the comments and seeing how many people really liked it I gave it a try.
Turns out it's pretty good. It gives you the delicious salty/sweet combo. It's important to put the peanut butter on the bacon side of the sandwich.
I've always loved BLTs. Most of the time I also put avocado on them. Now there is one more ingredient we can add.
Have you ever tried peanut butter on your BLT? What do you think?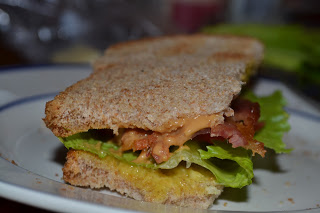 BLTP
2 slices bread
3 strips cooked bacon
2 slices fresh tomatoes
leaf lettuce
homemade mayonnaise
peanut butter
Toast bread. Spread one slice with mayonnaise. Spread the other slice with peanut butter. On the mayonnaise slice add lettuce, then tomatoes, then bacon. Top with the peanut butter slice. Enjoy!