This post may contain affiliate links which won't change your price but will share some commission.
Eggs and pesto go very well together. I've made a pesto quiche before…one version that had pesto on the bottom and one that had it mixed in.
The problem is that the pesto usually kind of gets lost in the eggs. Sometimes you can't even tell it's there. So last night I decided to top our quiche with pesto.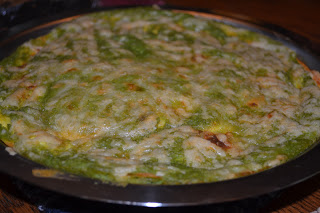 I made a simple egg and cheese quiche. I let it bake until the top was just set. Then I topped it with pesto and extra cheese.
It worked very well. The pesto stayed on top and added great flavor.
Are you grain free and looking for a pizza substitute? Make the quiche thinner and this is like pesto pizza! You could even add extra toppings. Mushrooms, onions, peppers,…I may need to try this very soon.
The next time you make quiche, instead of mixing all of the meat and vegetables inside consider topping it. The possibilities are endless. (Plus picky eaters can pick off what they don't like that way 🙂
This makes a great breakfast, brunch, lunch or dinner! And the leftovers are good warm or cold. Perfect for a quick weekday breakfast.
What is your favorite way to make quiche? What toppings would you add?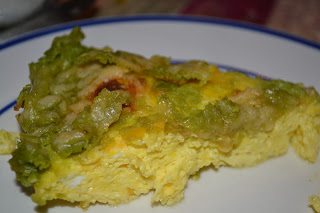 Pesto Topped Quiche
1/2 – 1 cup pesto (I blend peas, olive oil, salt and garlic powder for a simple allergen free pesto. You can add nuts and cheese and use basil or spinach for a more traditional pesto)
4 eggs + 5 egg yolks
1 cup milk or dairy kefir
salt, pepper and garlic powder to taste
1 cup shredded cheese (I used a combo of marble and parmesan)
1/4 cup shredded parmesan cheese
Grease a 9″ pie plate. Mix eggs, milk, seasoning and  1 cup shredded cheese. Pour into prepared pan.
Bake at 375 for 20 – 30 minutes, until top is set.
Spread pesto on quiche. Sprinkle parmesan cheese over top.
Bake another 25 – 35 minutes, until eggs are fully set.
Let set for 5 minutes before serving.