This post may contain affiliate links which won't change your price but will share some commission.
Now that we're mostly over the flu we're getting back in the kitchen. And we finally got to try making Rebecca's salsa bread.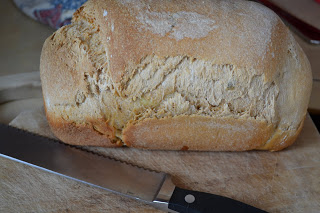 She came up with the idea last week when we were playing with the toy food/dishes.
I used a basic whole wheat bread recipe and adapted it to have salsa and cheese. Rebecca and Abram both helped make it.
I sometimes hesitate to post bread recipes since baking good yeast bread comes with experience. You have to adjust the flour/liquid ratio to get a good, elasticy dough. So I'll give an approximate amount for each ingredient. But use your judgement to adjust if the dough doesn't look right. I always err on the side of making the dough a little wetter. In my experience dry dough does not work.
This was seriously sooooo good. Soft and light. It smelled like pizza when it was in the oven. We all really enjoyed it.
Thanks, Rebecca, for such a wonderful recipe idea!! She was so proud of her bread. She talked about it all day. And was so happy to serve it with dinner. She kept asking Justin if he liked it.
This is great plain or with butter. It pairs well with most soups. And it would also work very well for grilled cheese and paninis. So versatile.
And now we've already got the creative juices flowing about what other bread flavors to try. Stay tuned 🙂
This bread does take time (as does any yeast bread). But there is very little hands on time. Most of the time is kneading the dough in a mixer or letting it rise. Just be sure to plan ahead if you want it with a meal.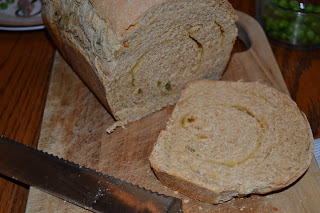 Salsa Bread
makes 1 loaf
prep time: 65 minutes rise time: 2 – 2 1/2 hours total time: 3 1/2 – 4 hours
3 cups organic whole wheat and/or all purpose flour, divided (I used a combination)
3/4 + 1/8 cup warm water
1/4 cup honey
1 1/4 tsp. active dry yeast, room temperature
1 tsp. sea salt
1/2 tsp. garlic powder
1/3 – 1/2 cup salsa with liquid
1 1/2 Tbsp. melted butter (or coconut oil or palm shortening)
1/3 – 2/3 cup shredded cheddar cheese (or any cheese you like) (this is optional but it does add great flavor)
Mix 1 1/2 cups of flour with 3/4 cups of warm water in a stand mixer bowl. Allow this to sit for about 30 minutes. This will break down the gluten and help the bread to rise better.
In a small bowl mix together 1/8 cup water, yeast and honey. Allow this to sit for about 10 minutes, or until the yeast is activated and mixture becomes bubbly (I let it sit until the flour/water was done resting).
In the meantime, melt the butter in a small sauce pan. Remove from heat and allow to cool. You don't want the hot butter to kill the yeast.
When the 30 minutes are up, add salt, melted butter, salsa and yeast mixture to the flour and water mixture. Add the remaining flour. Mix with a dough hook. Knead in the mixer for about 13 minutes. Add more flour if the dough is too wet. Add more salsa liquid if the dough is too try.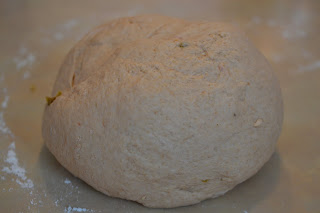 Once you've kneaded your dough, cover it with a cloth and let it rise for at least one hour or until it has risen to twice it's starting size (be sure it's in a warm place. I turn my oven to warm and place the bowl on top of the oven. Mine took about 1 1/2 hours to rise.).
While you're waiting for your dough to rise, get your bread pan greased.
When the dough has doubled in size, give it a nice punch. Using a floured hand, pull the dough out of the bowl onto the counter. Knead for three or four minutes until the air bubbles are all gone.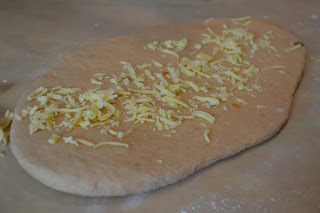 Roll out the dough about the width of your bread pan and as long as you like. Sprinkle the cheese all over the dough. Roll it up, tuck the ends under and place in the prepared bread pan. Cover and allow 30 minutes to one hour to rise again. The dough will continue to rise when it bakes, so don't be alarmed if it doesn't totally fill the pan after this rising.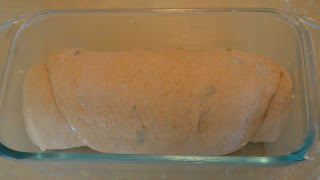 Bake the bread uncovered in a 350 degree oven for 50 minutes, or until the bread sounds hollow when you thump the top of it.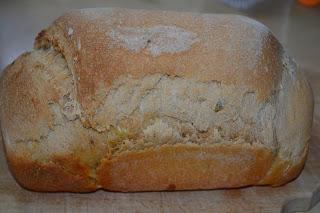 Allow the bread to cool in the pan for 5 minutes, then remove it to finish cooling on a wire rack.