This post may contain affiliate links which won't change your price but will share some commission.
My son and I stayed home from church on Sunday because he was sick. I still wanted to make a decent "Sunday dinner." But he wanted to be held constantly.
I knew I was going to bake some chicken, but had no idea what kind. I knew it had to be simple…so simple that you can prepare it with one hand.
This is what I came up with. And it's delicious!!
Put the chicken in the pan. Sprinkle a few things on top. And put it in the oven. In an hour you have moist, flavorful chicken. Perfect.
It's a little sweet and a little savory. Just what I like.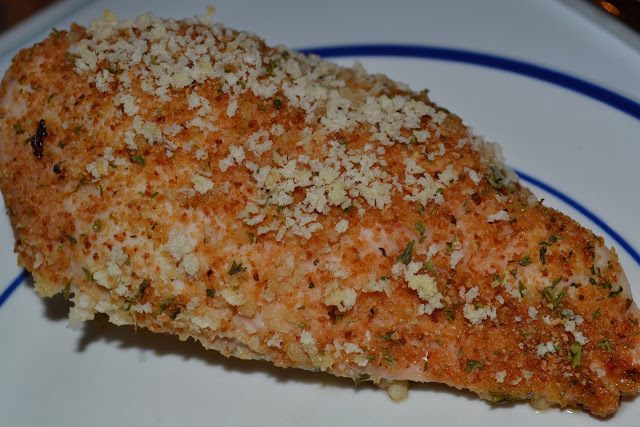 One Handed Honey Herb Chicken
2 boneless skinless chicken breasts
1/2 tsp. sea salt
1/2 tsp. garlic powder
2 Tbsp. honey
1/4 – 1/2 cup seasoned bread crumbs of choice (can be gluten free or substitute with seasoned almond or coconut flour for grain free)
Heat oven to 350. Butter/grease a small baking dish.
Place chicken in baking dish. Sprinkle with salt and garlic powder. Drizzle eat breast with honey. Rub slightly to cover. Sprinkle bread crumbs on top.
Cover dish and bake for 40 minutes. Remove cover and turn heat up to 400. Bake another 20 minutes, until topping is crisp and chicken is cooked through.