This post may contain affiliate links which won't change your price but will share some commission.
Sunday, Sunday. It's here again. And I finally get to go to church again! I've had to stay home with sick kids for the past two weeks. Thankfully everyone is healthy again (well, almost…Justin is on the tail end of a cold). What a blessing to have a healthy family and everyone sleeping well. I'm crossing my fingers that Abram's sleeping pattern over the last week isn't temporary. Our early riser (from birth) has been sleeping until 8 am every morning! Amen to that. (Update…not so much today 😛  At least he made it past 7.)
Last week I was happy to be back in the kitchen. In case you couldn't tell from all of my recipe posts 🙂  In addition to the new things (salsa bread, oat squares, lemon poppy seed muffins) I also made ice cream, soaked graham crackers, unsoaked graham crackers, golden grahams, kefir, yogurt and roasted beets.
We also had some family fun playing in the snow and sledding yesterday. Plus we had a baby-sitter put the kids to bed for the first time! I also did a little more clean up/organizing and got Abram's drawers taken care of (small stuff out, current stuff in).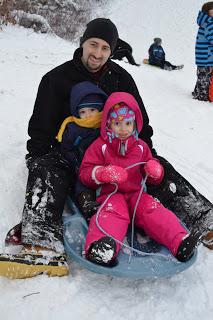 This week is pretty busy. Kindermusik starts this week. For the first time both kids will have class, back to back. I'm very excited for Abram to start his own activity. He has to come along to everything Rebecca does. He finally gets to do something himself. It'll be fun to see how he interacts with the other kids. I'm sure it'll be a lot different than Rebecca's first time at KM 😉
The most exciting thing this week (for me) is getting my test results. Finally!! I'm excited and nervous. I'm just ready to have more answers and learn what is really going on inside my body. Then hopefully I'll have a better idea of how to move forward.
I might meet up with some local bloggers on Thurs. We have MomBreak this week. I haven't gotten to be at a meeting since early December. So I'm very excited. Finally we'll be getting together with family on Saturday to celebrate my dad's birthday (basketball game and dinner).
I have plenty of fun planned in the kitchen this week. I'd like to make a new batch of cocoa puffs and try another cereal (you'll hear more details if it works). I want to make ice cream and scones (more specifics on those below). I'll be making a new batch of chicken broth. I already made pudding this morning. Hopefully I'll have time to make pesto and smoothies this afternoon. I didn't have time for cheese crackers last week. Maybe this week I will.
No huge updates this week. I'll have more after my test results. I do want to mention that I'm going to be experimenting with eating egg free this week 🙁  I'm  hoping it doesn't help 😛  I've been suspicious about eggs bothering me for a long time now. I already cut out egg whites. But I'm wondering if the yolks aren't working for me either. If they do, it will really cut a lot of options out of my diet. I LOVE eggs. And I think they are sooooooo healthy. Not to mention easy, cheap and so versatile. They are nutrient power houses. But…I'm wondering if I've built up an intolerance to them by eating them so often the last couple years.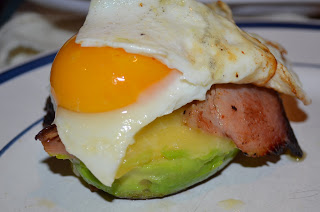 Often times when I travel I feel better (lose a couple pounds, bloating/inflammation goes away, etc.). And when I think back through what I ate that was different than normal the only thing that stands out that I didn't eat was eggs (I bring most of my food/eat very similar when I travel but I don't bring eggs). There are also some foods I make that always confuse me about why they seem to bother me. They are made up of "safe" foods. Yet they just don't seem to work well – homemade ice cream, salmon cakes, quiche, some baked goods (to name a few). The only common denominator/questionable ingredient? Eggs. It seems like I can eat graham crackers all day long without problems. But one muffin and my stomach is in knots. The only difference? Eggs.
I go in spurts with eggs. We've got a bunch to use up right now, so last week I ate a lot of egg yolks again (scrambled in my veggies, custard, baked goods). And by the end of the week my skin was awful (cystic acne all over), my headache is returning, my swelling is coming back, I have bloating, my eyes were painful and bloodshot, all kinds of stuff. So this week I'll be doing at least a few days totally egg free. I started yesterday already. We'll see if I notice a difference. I am going to try making some of my problem foods egg free to see if I tolerate them better that way. So I'll be doing an egg free ice cream (sad) and some egg free baked goods. And we'll see if my test results show an egg allergy. I'll update next week with the results.
One final update – we get to continue our raw milk share!!!! God provided someone else looking to share the drive that lives just a few minutes from our house/in our neighborhood. God is good. We tried a new baby-sitter Friday (a girl from our church). And found out they get milk the same place we do too! So we still get raw milk. And we have a baby-sitter from a family with similar values/health practices as ours. What blessings.
On to the menu. Nothing fancy this week. Just some favorite meals that work into our busy schedule.
__________________________________________________________
S (prep lunch, make pudding, church, milk, make pesto, prep smoothies)
  L – cp meatballs, buttered noodles, broccoli
  D – leftover pizza, fresh fruit, pudding (J), crunchy kale, beet, snap peas and avocado salad w/ pesto (M)
M (skim cream, prep dinner, SP, PS, make broth)
  D – cp roast chicken, baked potatoes, roasted vegetables
T (strain/freeze broth, soak beans, KM)
  D – pesto topped salmon, cheesy pesto rice, beans
W (cook beans, prep scones, Meijer, PS, Dr. L.!!!)
  D (prep ahead) – ham and bean soup, tbd scones
Th (make cocoa puffs, baking project w/ kids, make ice cream, WMB?)
  D (easy clean up) – goulash, corn, garlic toast (J), misc. veggies (M)
F (clean, MB, PS)
  D – hashbrown egg bake w/ bacon, peas, custard w/ granola (J), misc. veggies (M)
S (make cheese crackers, swimming, bball game)
  D – out to eat – Panera Bread?