This post may contain affiliate links which won't change your price but will share some commission.
Christ is Risen! The Lord is Risen Indeed!! Happy Easter everyone!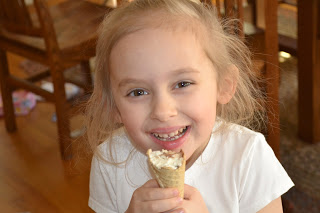 gluten free sugar cone with homemade mint chip ice cream – pure joy 🙂
Finally a not quite so busy week. It's spring break, so we get a break from our usual activities and will be doing some family stuff. Probably the children's museum and the zoo. Hopefully the weather is ok. The last few days have finally felt like spring, and we've been enjoying lots of time outside. Hopefully that continues.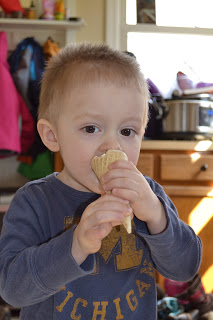 Last week I was very busy in the kitchen. So I'll take a few days of break this week. Maybe later in the week I'll start some gluten free bread experimenting. And I need to work on cake and pizza dough. I still haven't decided if we'll do all gluten free for Rebecca's birthday party or not. But if we do I want to be able to make it half way taste good 😛
Rebecca had a UTI last week, so she had to take antibiotics. I'm trying to give her lots of healing, nourishing, easy on the gut foods now.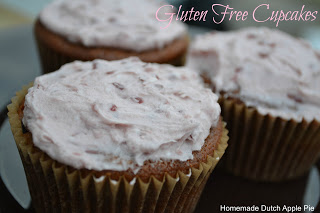 This week is also Justin's birthday. He requested a chocolate coffee cake. I'll have to modify it a bit to make it healthier. Maybe I'll even try making it gluten free 🙂
My other to-do is finalize some birthday party plans. I have a general idea about most of it. But it's time to talk details.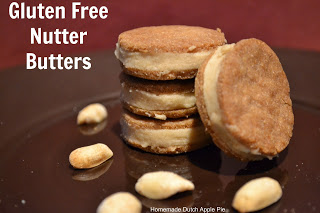 On the health front it's been another rough week. I think there was some die off again since I started new probiotics. But on top of that is a big inflammatory reaction to something. I have this periodically. I'll be doing well, my weight is steady, my skin is clear and then all of sudden it's like a puff up like a balloon. And it's hard to figure out what causes it. Is it from pure stress (we have been busy, and I have been stressed about some things)? Is it lack of sleep (which is the same as stress to the body, and I didn't get quite as much sleep last week with all of my early mornings of baking)? Is it diet related (I haven't been 100% strict about rotating every component of my diet…I do well with proteins, grains and veggies, but not so much with fats and sweeteners. And I hope I haven't developed a new food sensitivity that I'm not aware of)? It's hard to say. All I know is it's back to bloated/puffy/fluid retention/weight gain (it's not "real" weight…just fluid and inflammation…and it feels awful…I put on about 3 lbs. in one week), digestive problems, bad acne/painful cysts, red eyes, bad headaches, pain in my legs from swelling, moody. It's like all of my insides are inflamed and swollen from head to toe…and I can feel it and it shows on the outside (strechy pants, anyone? :P).
This is when I'm not quite sure what to do. Do I need to adjust my diet? Do I need to sleep more? Do I need to take a step back from all the stuff I'm doing? YES ;P
I've been trying to get a little extra sleep the past couple days. I've also been doing some detox baths and foot soaks to get some junk out and absorb more magnesium. Unfortunately it takes quite a while for things to calm down. I need to be more strict with my rotational eating. And I need lots of healthy fat, soft vegetables and healing foods like broth and gelatin. Hopefully a week without our usual to-do list will help too. I want to get my body back to calm…and figure out how to keep it that way! After listening to Matt Stone's talk last week I was reminded of just how important sleep can be. He suggests 10 hours a night when healing. He obviously doesn't have little kids to take care of 😛  But I'll work on it. I'd be happy to just get 8.
I really enjoyed listening to some presentations from the Healthy Life Summit last week. There will be a replay of the top five presentations tomorrow. And there are still a few more days to get the discounted price for the whole summit. Only $79 (60% off).
On to the menu. Trying to keep it simple so we can just relax this week.
______________________________________________
S (church) D2
  B – granola w/ milk, berry yogurt (Justin), beets, snap peas, white rice scone (Mary), yogurt w/ blueberries (R/A)
  L – egg salad sandwich, hot dog, broccoli, chips w/ salsa, snap peas
  D – ham and cheese (plain and sandwich), yogurt, broccoli, beans, chips, fruit, snap peas
M (children's museum) D3
  B – yogurt, muffins, orange (Justin), pumpkin salmon cake, pumpkin (Mary), yogurt, gf bar (R/A)
  L – chicken cheese sandwich, chips, peaches, beans (family); goat milk yogurt w/ blueberries, amaranth bar (Mary)
  D – TBD
T (zoo) D4
  B – yogurt, granola bar, strawberries (family); coconut flour squash scone, squash (Mary)
  L –  crackers w/ turkey and cheese, beans, popcorn, applesauce (family); cucumbers, tuna sour cream salad (Mary)
  D – TBD
W (make kefir) D1
  B – yogurt, muffins, banana (Justin), garbanzo flour scone, broccoli, cauliflower (Mary), yogurt, gf bar, banana (R/A)
  L – pb/honey sandwich, olives, popcorn, applesauce (family); snap peas, chicken (Mary)
  D – scrambled eggs, toast, sauteed veggies
Th (make gf bread, Dr. M., Dr. S., make ice cream, bake cake, strain kefir, make smoothies) D2
  B – scrambled eggs, muffins, fruit (Justin), salad, scone (Mary), scone, fruit (R/A)
  L – grilled cheese, fresh pea soup
  D – baked pork chops, seasoned rice, beans
F (bake cake, library, Justin's birthday) D3
  B – smoothie, granola bar (Justin), gm yogurt w/ fruit, amaranth bar (Mary), smoothie (R/A)
  L – chicken and cheese paninis, broccoli (R/A), pumpkin soup, amaranth bar (Mary)
  D – gf salmon cakes, corn, homemade french fries
S (make gf pizza dough, make scones) D4
  B – yogurt, granola, fruit (Justin), coconut flour scone, squash (Mary), yogurt (R/A)
  L – homemade pizza (family), sour cream w/ raisins, cucumber (Mary)
  D – grilled steak, baked potato, peas
______________________________________________________________________________
D1: chicken, dry beans, garbanzo flour, lentils; broccoli, brussels sprouts, cauliflower
D2: white fish, pork; white rice, teff; green bean, lettuce, peas, beets; pear, cranberry; coconut milk
D3: turkey, salmon; amaranth, tapioca; asparagus, pumpkin; coconut water, goat's milk yogurt, blueberry, raspberry
D4: tuna, beef, cream, sour cream; coconut flour; cucumber, squash, zucchini; grapes; raw milk