This post may contain affiliate links which won't change your price but will share some commission.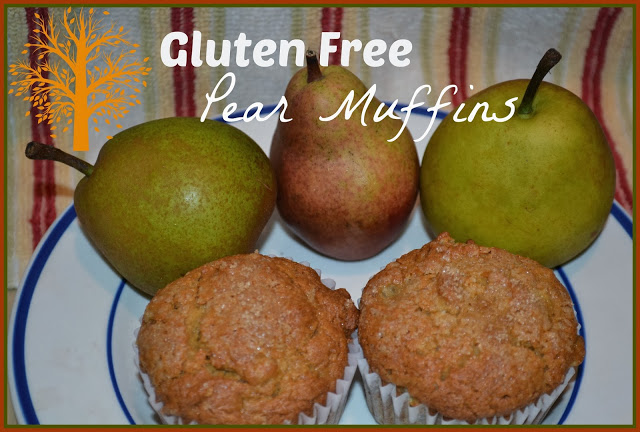 For a couple weeks my house seemed to be overflowing with pears. I've used most of them, but we still have a handful of very ripe pears that need to be used.
Pears are a bit tricky to bake with because they have such a high water content. You'd think they are interchangeable with apples, but they aren't.
So while brainstorming what to do with my pears I decided to try muffins. I've never made any kind of bread or muffin with pears. I was happy with how these turned out.
The muffins are very moist. But also sweet with a mild spice from the nutmeg. If you want the texture to be a bit more uniform and not chunky you can grate the pears instead of dicing them. You could even puree them/use pearsauce instead of fresh pears.
However you make them, these muffins are a perfect fall treat. They even have some vegetables in them!
What is your favorite way to enjoy pears?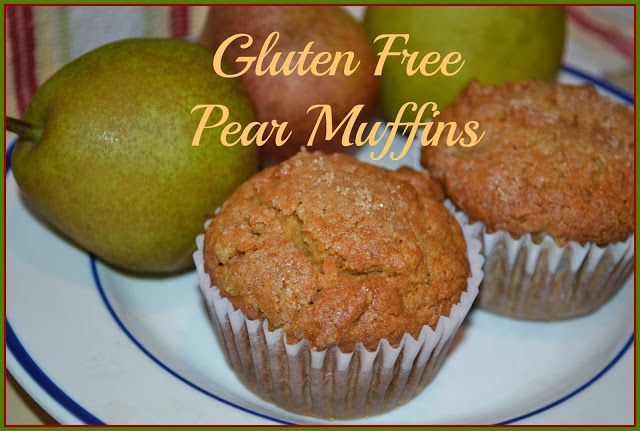 Gluten Free Pear Muffins
makes 1 dozen
1 cup white rice flour*
3/4 cup amaranth flour* or sorghum flour
1/2 cup organic cane sugar or coconut sugar*
1 tsp. baking soda
1 tsp. baking powder
1/2 tsp. sea salt*
1/4 tsp. nutmeg
1 tsp. vanilla
1 egg
5 Tbsp. melted coconut oil* or butter
2 Tbsp. honey or molasses
1/2 cup pureed squash
2 large or 3 small ripe pears, peeled and finely diced
organic brown cane sugar, sucanat or coconut sugar for topping (optional)
Heat oven to 350 degrees F. Line muffin tin with paper liners.
In a large bowl combine the dry ingredients. Add the vanilla, egg, oil, honey and squash. Mix well (the batter will be thick). Add the pear. Mix until fully combined.
Divide the batter into muffin cups. Sprinkle sugar on top.
Bake for 30 minutes. Allow to cool.
*These are affiliate links. It will not change the cost for you if you buy through the link, but I will get a small commission. It helps me earn a small amount to keep putting in the time and effort to do what I do 🙂
This post is linked to From The Archives Friday.