This post may contain affiliate links which won't change your price but will share some commission.
It's here! It's here! The ecocentric mom October Mom + Baby box has arrived. This month featured fun products like bendable silverware and mint chocolate body butter.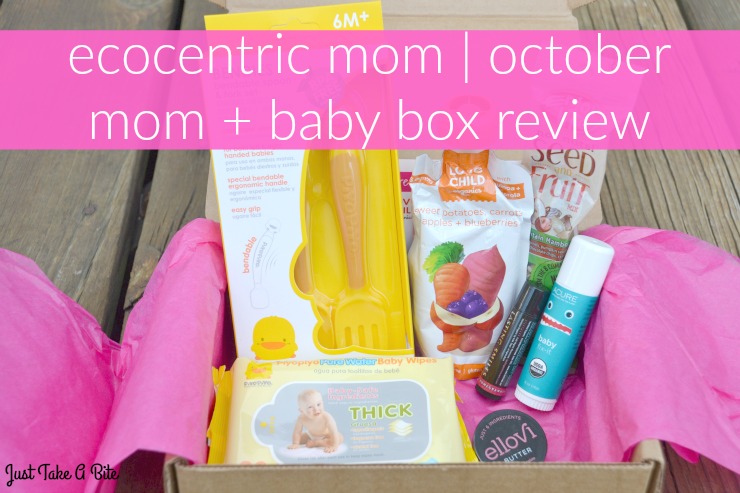 I am working with ecocentric mom to blog about this mom + baby box. I have been compensated for my time commitment to review this product. However, my opinions are entirely my own and I have not been paid to publish positive comments.
It can be hard to navigate the world of natural products. Especially when it comes to your baby. That's why I love getting my ecocentric mom + baby box. Especially in this season of life where I've got three young children and just don't have time to research and shop all day long.
Here is how it works. Ecocentric mom does the hard work for you – finding great products that are natural and healthy. You get a box full of fun stuff to try at a fraction of the cost. It can be a one time event, or you can get a new box every other month. You'll learn about and sample products you never even knew existed! It's so much fun.
After receiving a few mom boxes I was very excited to try the October mom + baby box. It had something for everyone!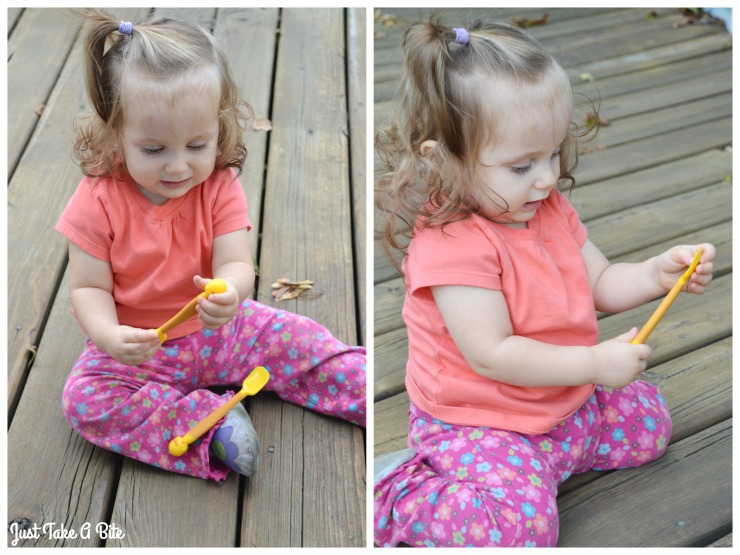 "Piyo Piyo's products have always been developed with little children in mind. Named after the sound of a duckling, Piyo Piyo puts quality, safety, functionality and appeal at the forefront of all their products. They are not only BPA and Phthalate free but also environmentally friendly and durable. The two-piece Piyo Piyo Duckling Bendable Spoon and Fork Set is fun and allows your child to eat right-handed or left-handed. The kids will really love them and you'll love the convenience. Stick them in your bag and use them on the go or at home. They're simple and reliable and a great go to choice for your little one's needs."
Seriously. How cute are these utensils?! My daughter LOVES them. I love that they are bendable and are great for left-handed kids…which I somehow ended up with three of (my husband and I are both right-handed).
I was worried at first that the fork wouldn't be very functional. But I was quite surprised with how well it works. My fourteen-month old uses it for just about any kind of food. And the food stays on even when she flings the fork around.
This would make a great Christmas gift for little ones. Especially when you are trying to come up with non-toy ideas if you have a house like mine that is already packed.
Of course I love that they are BPA and phthalate free. Always a must! Grab a set now with this coupon code.
Limited time offer: Use code BEND10 to save 10% on any order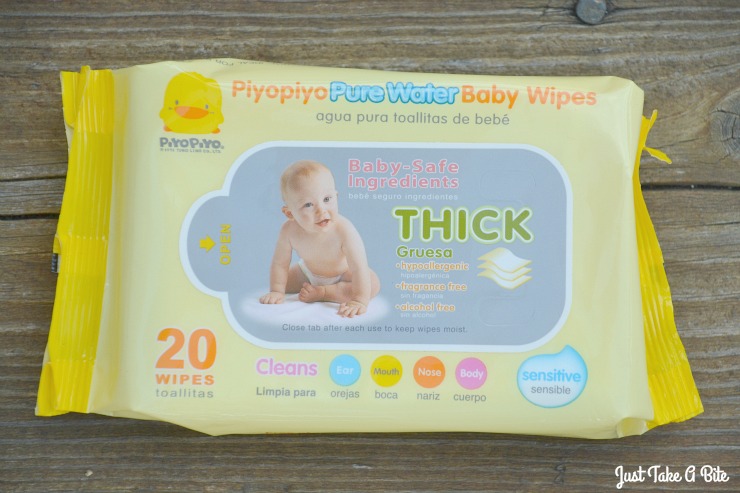 "Piyo Piyo Pure Water Baby Wipes are gentle to use on your baby's delicate skin and ideal for diaper changes, feedings and cleaning up everyday messes. These wipes contain only purified water, plant extracts, and moisturizing agents and are free of chlorine, alcohol, parabens, SLES and dyes. They're safe and easy to use and you can trust that what you're putting on your baby's sweet skin is good for them and beneficial. They're great to have around the house or in your diaper bag so that when duty calls, you're ready!"
I use cloth diapers 90% of the time. So I don't need packaged wipes often. But when we are out and about I sometimes use disposable. And it sure is handy to have wipes on hand at all times.
After my daughter's allergy diagnosis I started reading labels more carefully. I was amazed at the junk used in conventional wipes. Is it really necessary to use parabens to wipe your child's bottom?!
I was excited to try these water baby wipes from Piyo Piyo. They work well plus they are much safer. I also like how handy the travel pack is for tossing in the diaper bag.
My only complaint is that they do not list all of the ingredients. And with a child with tons of allergies (including coconut) that is an important factor. "Plant extracts" and "moisturizing agents" don't mean much to me. I need to know details. And it concerns me when companies don't make that information available.
Limited time offer: Use code WIPES10 to save 10% on any order
"ACURE was founded on sustainable principles and sensible prices to steer people away from toxic chemicals. They prove that you don't have to sacrifice your health for beautiful skin and hair. Their plant + food based formulas are perfected to provide optimal performance at a cellular level. We all know it's not enough to be natural, it also has to work. Your baby fix-it sticks will soothes 'ouchies', with the benefits of pumpkin, borage + pomegranate oils. It's a great natural alternative remedy."
Kids are always getting cuts and scrapes…except when you have to try out a fix-it stick! I didn't get to actually try this on any ouchies because by some miracle my kids didn't have any. But I am very excited to try it when they do.
I love seeing a product with a list of ingredients I 100% approve. As usual I can't use it on my youngest because it contains coconut oil. But it will be perfect for my older kids. I think they will really enjoy it too. They can even apply it themselves. It's like chapstick for your knees.
It does rub on easily and is very handy to keep in the diaper bag.
Limited time offer: Code EcoMomACURE20 for 20% off your order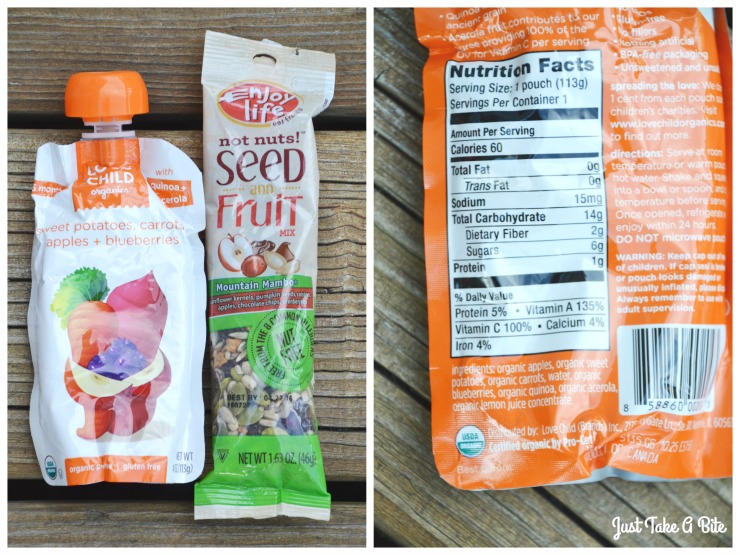 "Love Child Organics makes delicious, nutritionally-focused organic food and snacks for babies and young children. They ensure that you will not find refined sugars, additives, preservatives or fillers in any of their products. Your Super Blends pouch is a tasty and nutritious organic puree and is perfect as a meal for your baby and as a snack for young children. They're convenient and easy to use and great for the busy mom who wants her kids to eat well."
My kids don't get many convenience foods. They are expensive and usually have ingredients I don't like (especially my big pet peeve "natural flavor."). You can imagine their excitement when we got a super blends pouch to try.
My youngest is allergic to some of the ingredients. Though it would be perfect for a child her age. My older kids each tried some. In terms of flavor they thought it was so-so. I squeezed some into a dish and added a touch of honey. They liked it better that way (and my kids aren't too picky about that stuff/don't need a lot of sweetener).
The one thing that stood out to me was the use of acerola powder for the vitamin C! You don't see that very often. Usually it's ascorbic acid, which does the opposite of boost your vitamin C levels.
I give this two thumbs up for convenience and quality. My kids thought it was so-so on flavor. But I think younger kids would love it.
The only thing I wasn't crazy about was the quinoa added. Seeds are hard for young children to digest, especially if not properly soaked and cooked. Just the fruits and veggies would be my preference.
Limited time offer: Use code LCOECOCENTRICMOM15 at diapers.com
"Mint and chocolate — the perfect combination for dessert and an even better combination for your skin! These Butter Minis can be lightly rubbed or thickly slathered all over your body — anywhere you need moisture and a light, delicious fragrance. They smell like dessert and feel like heaven! It's time to indulge, ladies!
Many of Ellovi's products double, triple, and quadruple as other effective solutions, and their Butter Minis are no different. Ellovi totally gets that your skin is like a sponge and that adverse environments can be just as damaging to our bodies as what we put in them. The body butters are also sunscreens, makeup removers, and face moisturizers. You'll love Ellovi's natural formulations and will definitely feel the difference in your baby-soft skin."
I'm jealous…so jealous that my kids get to use this! Really, I just want to eat it. This mint chocolate butter smells so good you want to eat a spoonful. And with quality ingredients you probably actually could.
My big kids loved having me rub this on their arms and legs. It really helped when my son was having an eczema flair. I sure didn't mind having my kids smell like dessert!
This is another product that I would totally use over and over. It would be handy to keep in the diaper bag for dry skin in the winter or if you or your child struggles with eczema. Or simply use it to smell good with the benefit of soft skin.
Mint chocolate butter is also a great idea for a Christmas gift or stocking stuffer. Stock up now while you can get 15% off!
Limited time offer: 15% off using code Ecocentricmom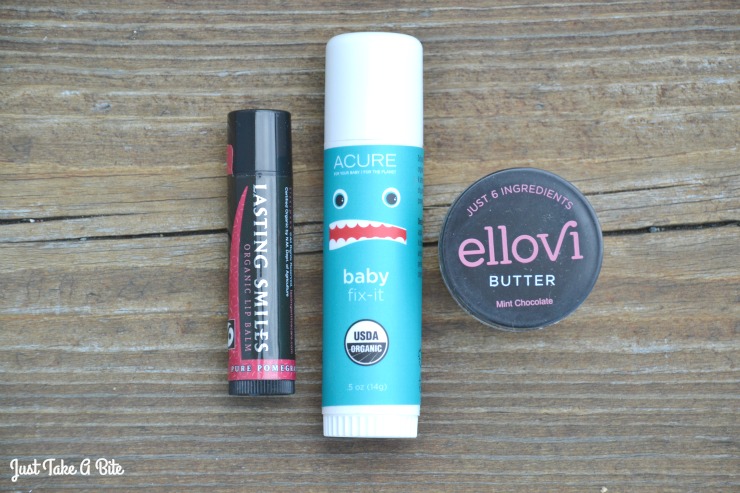 "As avowed chapstick junkies, many of us were delighted to discover Lasting Smiles Lip Balms. You'll never use a cheap, waxy chapstick again after smoothing on the light, silky texture of these balms. They're formulated with ultra-nourishing ingredients that'll keep your smile glowing all day. We love the social mission of this company and the balm is a great every-day staple to keep stashed in your bag.
You can rest easy knowing Lasting Smiles products are organic and fair-trade certified with ingredients that are sourced from small-scale farming cooperatives. They take specific measures to ensure that what you receive is the purest, most effective and most beneficial product for the environment and its people. Your lips will be transformed by this product and will look smoother with every use. Feel doubly good about your purchase — a portion of proceeds goes straight to cleft lip surgery funds for children, changing their lives for the better."
My oldest is seven…going on thirteen. She was very excited when I told her she got to use this lip balm. The pomegranate scent is divine. The balm goes on easily.
Whether mom gets it or you want to use it on your kids, this is a fun product. Great smell, quality ingredients and yet another item to keep in the diaper bag or your purse. Or keep one in each child's backpack to use at school.
These make great stocking stuffers and teacher gifts too.
"Enjoy Life Foods is committed to providing consumers with gluten and allergen free foods of the highest quality. In addition to being free of the eight most common allergens, Enjoy Life products are also certified Kosher and Halal, are all natural, and non-GMO verified. They manufacture a wide variety of delicious snacks too! The Mountain Mambo seed and fruit mix is made with sunflower seeds, pumpkin seeds (pepitas), fruit and mini chocolate chips. Your body will love you once you introduce this delicious snack plus you won't feel guilty because you're eating something nutritious that tastes amazing. The sample sleeve is a great size to throw in the diaper bag and fortify moms for nursing or toddler-chasing."
My kids are spoiled. They got to try all of my goodies, including this Enjoy Life seed and fruit mix. My big kids had no problem devouring this delicious snack.
We already use Enjoy Life chocolate chips in our baking and for snacking. So it was fun to try another Enjoy Life product.
My kids will eat anything with dried fruit and seeds. Add chocolate chips and they are all over it.
I like the convenience factor of the individual package. One more thing to add to the diaper bag for a quick snack when you are out and about.
I love the idea of using it for nursing moms. We need all the help we can get for nutritious food with no work involved!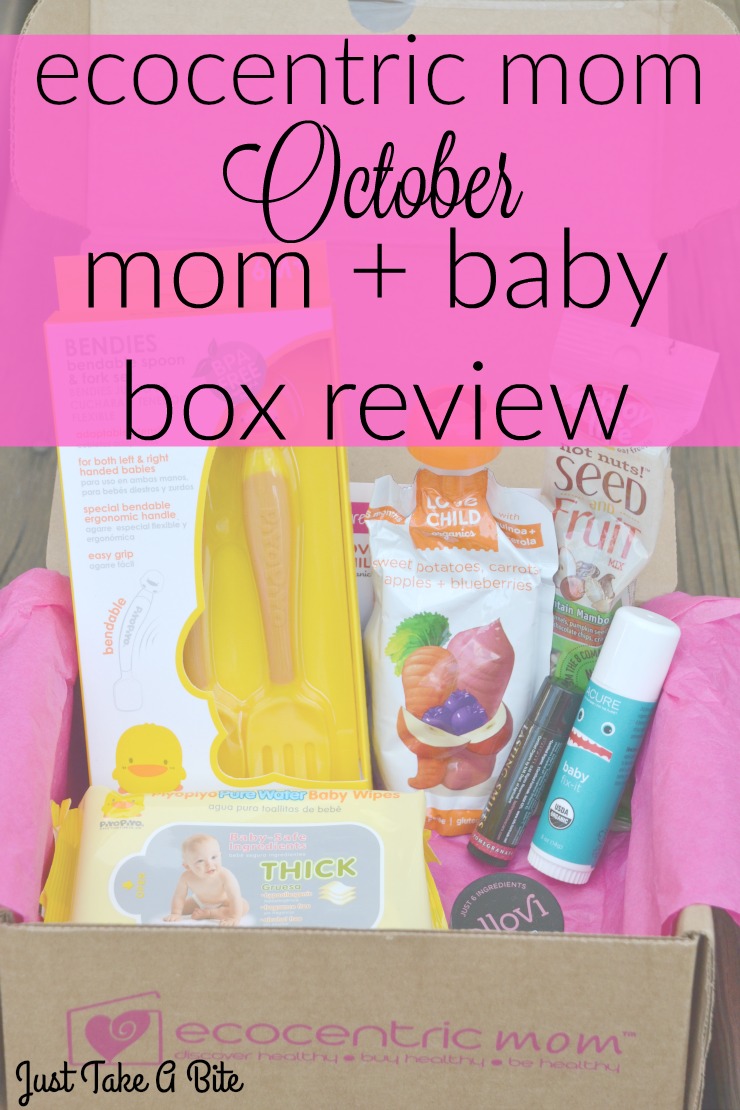 Every ecocentric box (pregnancy, mom or mom+baby) is filled with great products. All you have to do is open the box and try them!
This one contains neat products to stock diaper bags, backpacks, purses and stockings! I think I might have to start my Christmas shopping soon.
Don't forget to sign up for your ecocentric mom + baby box, mom box or pregnancy box.
In order for me to support my blogging activities, I may receive monetary compensation or other types of remuneration for my endorsement, recommendation, testimonial and/or link to any products or services from this blog. It will not change the cost of any products or services for you.