This post may contain affiliate links which won't change your price but will share some commission.
Take one simple step towards better health this year by updating your health and beauty routine. I'm so excited to share my Cheshire Fields review and giveaway of some amazing products!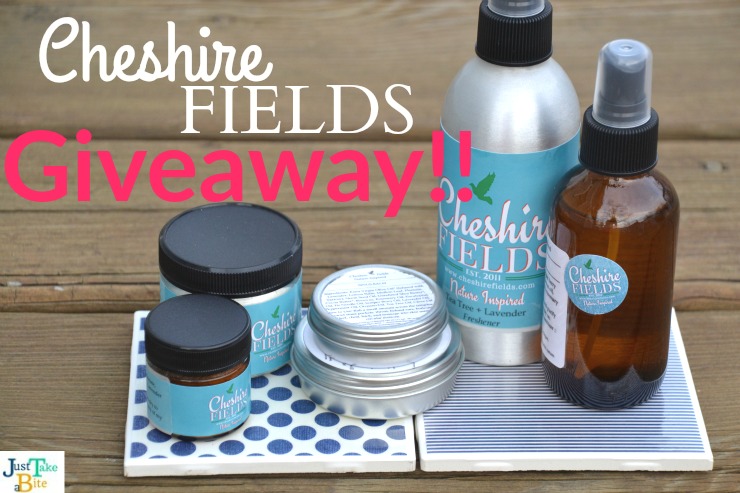 I am working with Cheshire Fields to blog about these products. I have been compensated for my time commitment to review these products. However, my opinions are entirely my own and I have not been paid to publish positive comments.
Just about everyone is on the lookout for simple ways to improve their health. Especially as the new year starts.
I'm not big on diets or spending a lot of money to feel good. I don't know about you but I also don't have a lot of extra time to learn to make my own health and beauty products.
But I do love when there are affordable, homemade, high quality products that are in line with my views on health.
I recently got to sample some products from my friend Michelle at Cheshire Fields. She has an assortment of handmade soaps, shampoos, balms, sprays and more that are 100% natural (and I really mean that…not just labeled organic or using the term natural without much meaning behind it).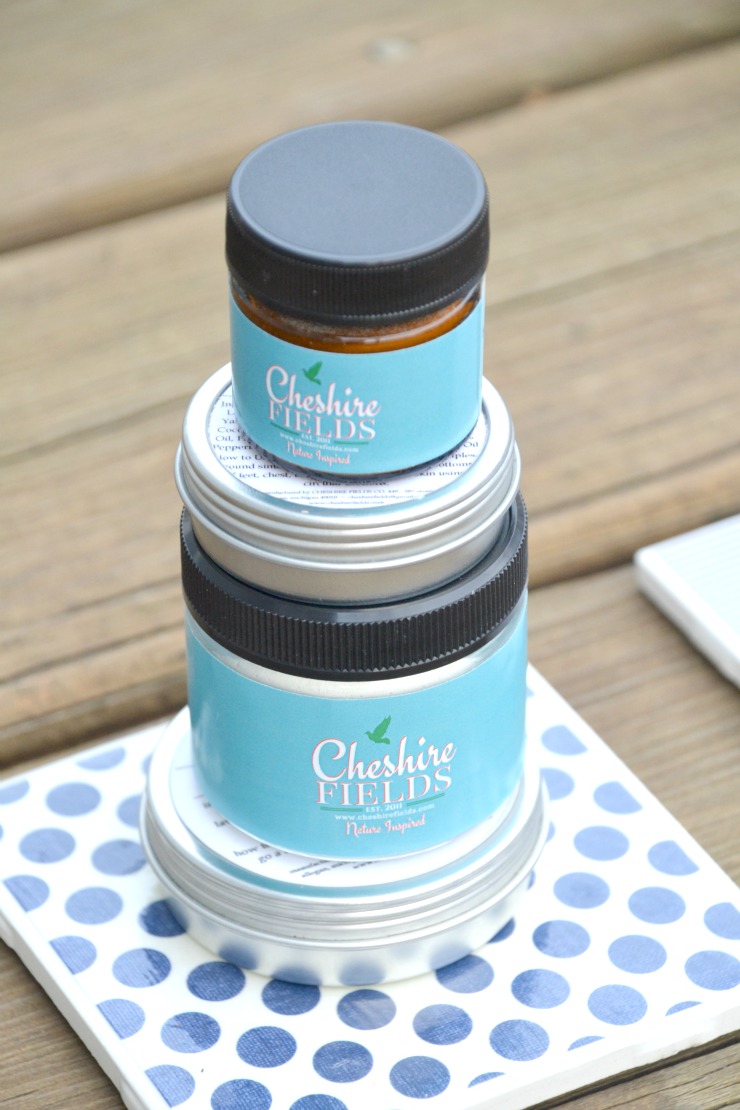 When it comes to natural health and beauty most people jump to coconut oil. It is amazing stuff.
But since I have a toddler with a coconut allergy I try to keep our house pretty much coconut free. That means just about every soap, lotion and shampoo is out.
I was thrilled to find out that Michelle has many products that are not only coconut free but also dairy and nut free! Natural products that are safe for my family. I didn't think they existed!
Tallow Balm
The first product I tried as soon as it arrived was the tallow balm.
I haven't been able to use lotion in over a year! A year!! Can you say dry skin?
I was thrilled to try the tallow balm and was not disappointed. Just a tiny bit goes a long way and creates soft, smooth skin. Plus it smells so good with all of the essential oils added.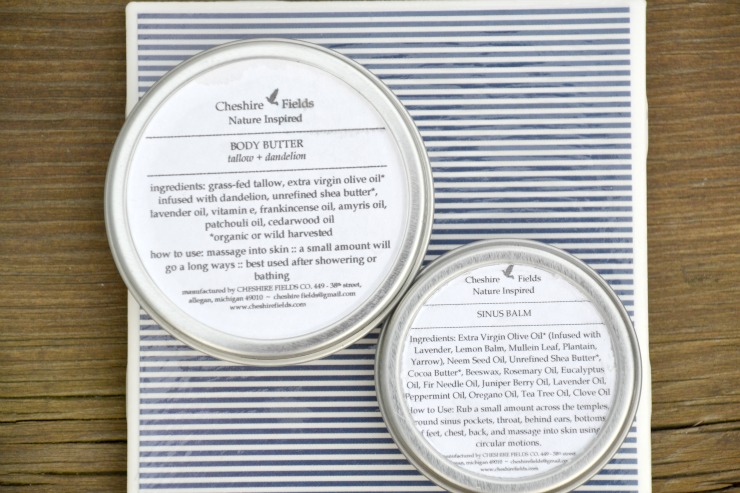 I love that it is safe to use on my entire family, even my kids with allergies. It also comes in a compact case that is easy to take wherever you go. We brought it along for all of our holiday travel.
My oldest likes to use it on her hands at bed time and wear socks on her hands (thanks to Michelle's suggestion!). By morning she has super soft skin again instead of dry, cracked hands.
Sinus Balm
The sinus balm was a Christmas present for my seven year old. That might sound strange to some. But she has struggled with environmental allergies and mouth breathing for years.
Having another natural tool for helping her breathe better at night is a huge blessing.
It is also made with olive oil and is very safe. The scent is pretty strong. But that is how it works.
My son had a stuffy nose the other day and told us he had to breathe with his mouth open. We put some behind his ears and on his neck. He didn't wake up once in the night!
Disinfectant & Freshener Spray
With young kids in school I don't have to tell you how excited I am to have a safe disinfectant spray! It is so easy to use. Just shake and spray.
It makes my house smell wonderful (thieves will do that). Plus I can freshen things in a matter of seconds.
No need to use chemicals to clean your house. This spray can be used directly on surfaces to get rid of the germs.
I was so glad to have it around after my daughter had the flu. It has also come in very handy for the potty seat that sits in our bathroom. It is almost impossible to keep that clean and free of bad smells. The freshener spray worked wonderfully.
Tea Tree + Lavender Freshener
The tea tree + lavender spray is one of Michelle's new products. It is similar to the disinfectant spray, but with different oils.
I can't decide which one I like better. The tea tree and lavender combination is very floral and leaves the whole house smelling bright and fresh. I will be using both all winter long!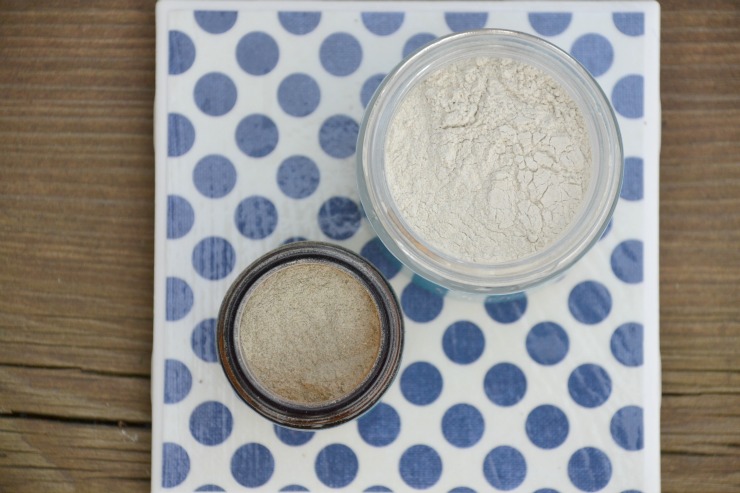 Itch Relief Remedy
When you have a child with eczema there is a never ending search for products to help calm the itching. So I was very excited to get to try this.
It comes as a powder that you can make into a paste. It has a very mild scent and soothing ingredients. Just a pinch goes a long way so this will last a long time.
Chamomile Lavender Dry Shampoo
I wash my hair every day. Otherwise my hair gets so oily. It is fine and thin.
When Michelle told me about her dry shampoo I was so excited. I can actually get by without washing my hair once in a while with this product. Simply rub it into the scalp to absorb oil. Plus it smells amazing!
For those mornings where my little one just doesn't want to sleep and let me take a shower this dry shampoo is a life saver! I can leave the house without feeling like I look unshowered. It is even great for days that I wear my hair down. By afternoon it already looks greasy. Just a bit of dry shampoo and I'm looking good again and smelling good too!
The chamomile lavender is great for light colored hair like mine. There is another one specifically for dark hair.
I was so impressed with all of these Cheshire Fields products. I even bought a bunch for Christmas presents for the women in my family! But you don't have to wait until Christmas. They make great gifts any time of year.
Plus this is just a small sample of all of the great products Michelle has to offer. She is so passionate about sharing homemade, natural products.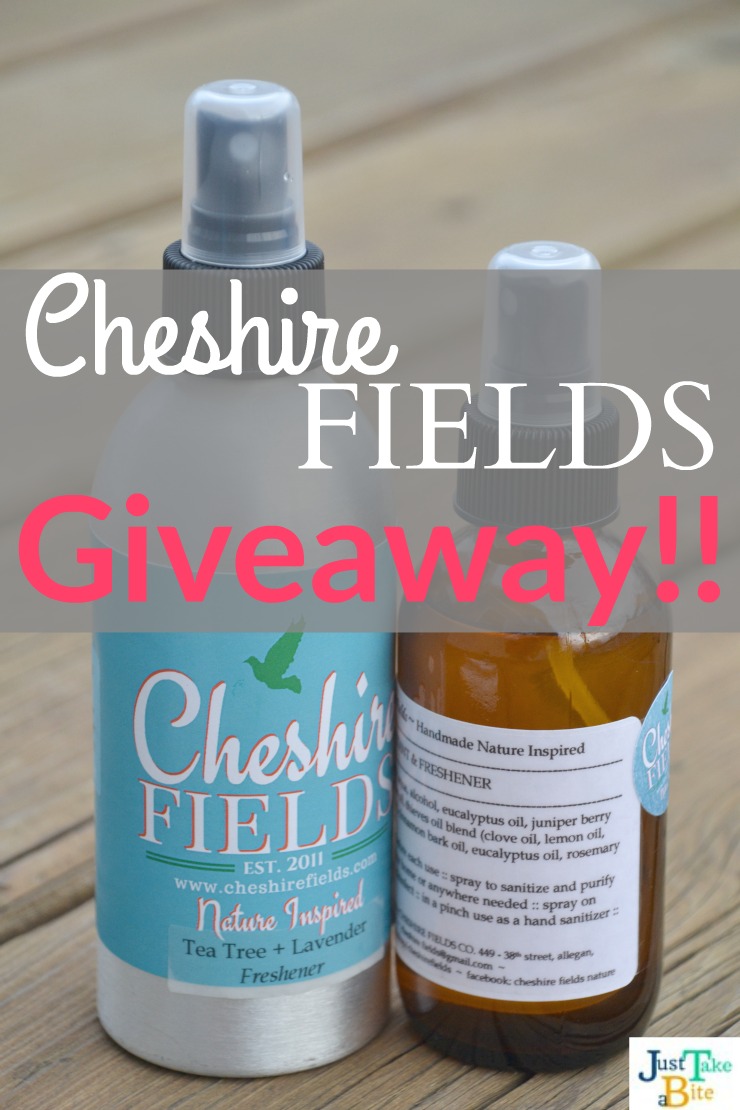 Michelle has generously offered to give away a hair care bundle to one of my lovely readers. It includes:
Henna Shampoo Bar
Hair Oil
Dry Shampoo (you choose light or dark)
I don't know about you, but I could use some serious hair pampering this year!
Can't wait to see if you're the winner? Head over to Cheshire Fields right now and use the code MYNEWYEAR to get 10% off your whole order all month long!
I hope you check out all of the Cheshire Fields products. Come back and let me know what looks good or what you've tried.
In order for me to support my blogging activities, I may receive monetary compensation or other types of remuneration for my endorsement, recommendation, testimonial and/or link to any products or services from this blog. It will not change the cost of any products or services for you.