This post may contain affiliate links which won't change your price but will share some commission.
Do you ever just want to escape the chaos of the messes and clutter in your house? I sure do! But I've found my messy house sanity saver that doesn't require me to clean all day long.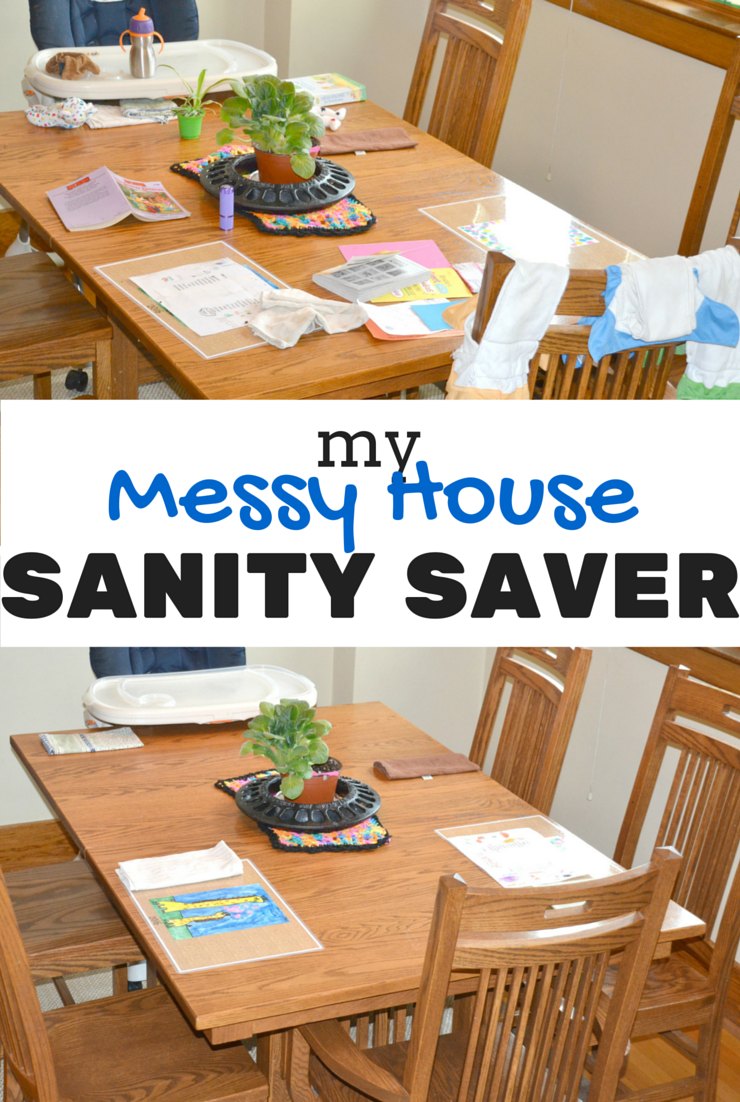 My house is messy.
My house is dirty.
In other words, I'm a mom to three little people that can scatter toys, food and dirt across every square inch of floor in a matter of minutes.
Is there a bare counter top in sight? Not for long! They'll find it and fill it.
Can you handle it?
Most days I'm ok with the mess. I know this is a phase. And I am fully embracing it! I am in no rush whatsoever for this phase of life to be over. It is amazingly beautiful and fun.
But sometimes the clutter just gets to me. When I can barely find a space on the kitchen counter to prepare dinner I lose it. When I look around and all I see is stuff on every surface.
Then I go from not caring to wanting to throw out every toy and scrub every floor. I'm sure my kids are not really fond of those days.
My happy place.
I had to find a solution to this problem. I had to find balance, a happy middle ground. I'm busy. I really can't keep my house organized and clean at all times. I just can't. Plain and simple.
I also don't want to be a drill sergeant that never lets my kids make messes and have fun.
I recently discovered the answer to my problem.
My messy house sanity saver is my dining room table.
Say what? A table?
Yes, a table.
Our dining room is in the middle of the house. You walk through it no matter where you are going.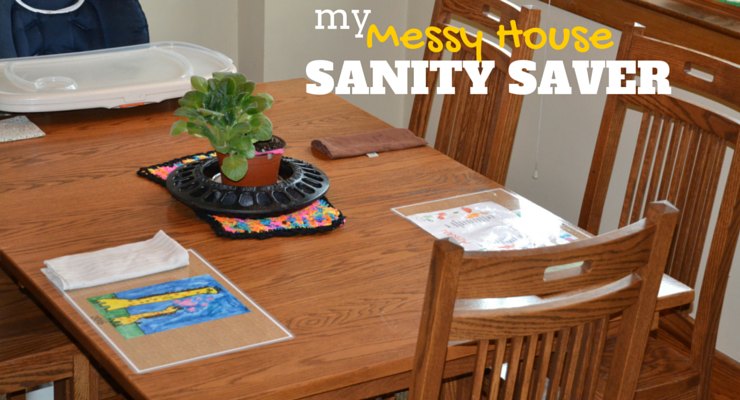 I have found that if I keep my dining room table cleared I feel so much better about how the rest of the house looks. I have my one space that is clutter free and clean. It is calming and inviting.
It is also the place that my family gathers. So it is both central to the house and central to our family. We always eat meals together. And always at the dining room table.
If there is random stuff on the table while we eat it gets in the way of our precious time together.
If there are books sitting on the table I might as well not even try to talk to my oldest. If there are toys my little one wants to play.
By keeping my dining room table clean I am creating a space that encourages fellowship and closeness. It's the center of the house where my family comes together to share our joys and sorrows of the day. It's where we gather for nourishing food and real conversation.
Even if the rest of the house has been turned upside down during the day I do my best to keep my dining room table neat. As soon as a meal is done I clear the table and wipe it clean. My kids know that the table is not a storage area for toys, homework, crafts, etc.
You can set your stuff on the floor. I don't care. Just don't put it on my table!
Sure there are times when the clutter creeps in. And I can simultaneously feel my stress build. Then the entire house feels chaotic.
So to preserve my sanity (and keep my children safe…) I take the extra two minutes after a meal or any time during the day to clear the table.
Do you have a central location in your house? What would happen if you made a point to keep it clean?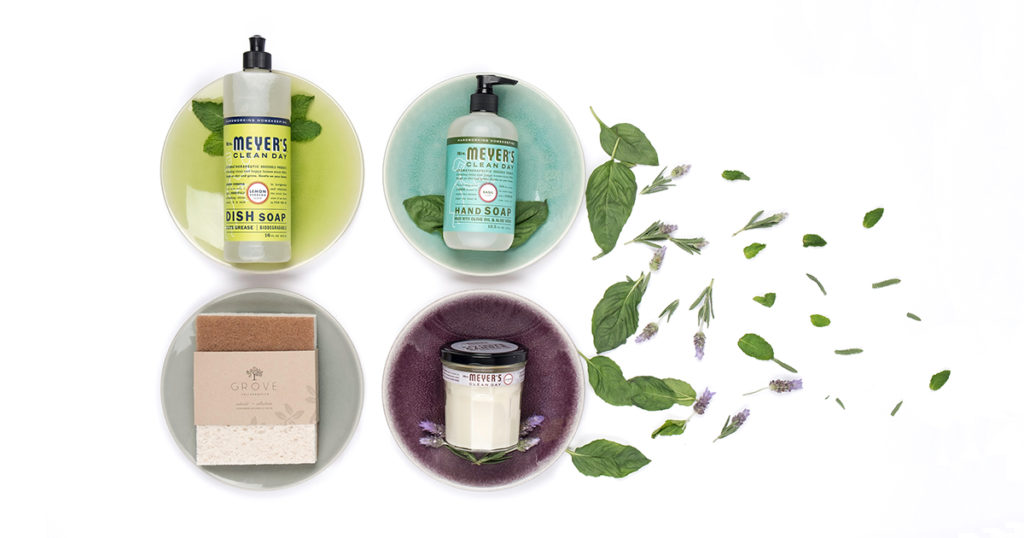 An added bonus.
One other benefit of this messy house trick is that it inspires me to keep other areas clean. I see how much peace I feel when standing in the dining room. Then I try to take five minutes here and there to straighten up other areas.
Or I take ten minutes to deep clean a spot that hasn't been touched in a while. I can spare ten minutes instead of looking at social media.
What better way to clean than with FREE quality cleaning products!
Grove Collaborative is offering the Mrs. Meyer's Everyday Luxury Set from today until May 1, 2016. There is a limited number of sets so be sure to grab yours quickly!
The Luxury Set for new customers includes:
Mrs. Meyer's hand soap
Mrs. Meyer's dish soap
Mrs. Meyer's soy candle
Grove Collaborative walnut scrubber sponges
Free shipping
Existing GC customers will receive a free Mrs. Meyer's hand soap. We love the hand soap! My kids get so excited when we try new scents. So far Apple is the winner. But there are plenty more to try.
What do you ALWAYS keep clean? What's your thing that you can't leave messy?
Find a focal point in your house whether it's the dining room, the kitchen or even by the television. Make a point to keep it neat and clean and see everyone more at peace.
Then get some FREE cleaning products to inspire you even more. Let your kids join in. Make it a family project to bring calm to your chaos.