This post may contain affiliate links which won't change your price but will share some commission.
Cooking for a family with allergies is manageable, though sometimes challenging. What happens when you leave the comfort of your own kitchen? How do you handle food allergies then?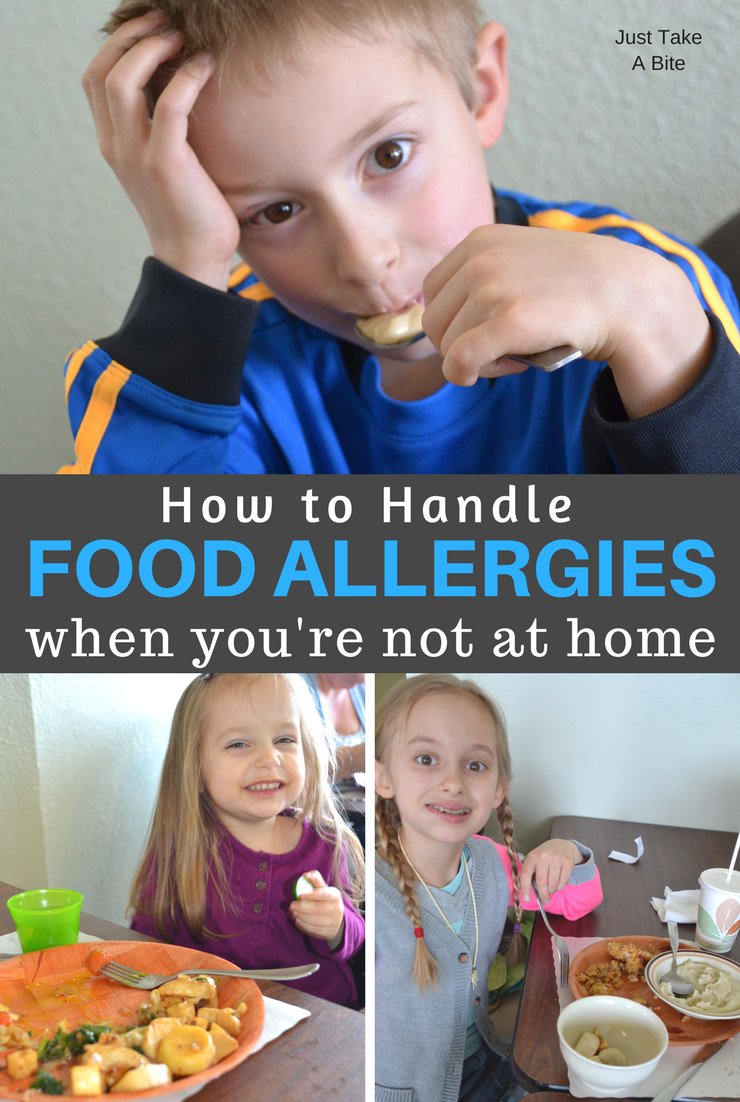 It is very common in the world of real food to be on some type of restricted diet. Whether it be paleo, AIP, keto, GAPS, low FODMAP or another healing diet. Then there are those who have to avoid certain foods due to allergies. Either way it makes eating somewhere other than your own home challenging.
What Can You Do?
The easiest solution is to always eat at home. But let's be realistic. There will be times that you have to eat out or get an invitation from a friend to have dinner together or even eat with family. In order to avoid going hungry or appearing rude you need to take measures to ensure there is safe food for you and your family.
I deal with it all the time. My family has dealt with a myriad of allergies over the last few years. This is in addition to trying restricted healing diets. We even did have a stretch where we didn't eat at a restaurant for over a year because there were just too many severe allergies. But I've learned how to live with food restrictions and still eat somewhere other than my own home. Here are some simple coping strategies to make this task easier.
Eating at a Restaurant Tips:
Choose a restaurant with an actual chef. They can accommodate almost any request.
Ask for your food plain. Most restaurants have chicken breast and broccoli. They can even cook it in water to avoid unhealthy or unsafe fats.
Choose meals with individual components (meat, vegetable, starch) instead of mixed foods like pasta and burritos.
Order a few sides instead of a main dish. A baked potato, salad and a vegetable makes a good meal.
Don't be afraid to bring your own food. A salad is a great grain free option. Simply bring a small bottle of your own dressing to make it healthy. I often bring extra raw vegetables for my kids to add to their meals since restaurants have a limited selection and they are sometimes prepackaged with unsafe fats.
Speak up! It's not always easy, but in my experience most restaurants do their best to accommodate special dietary needs. My little secret? Regardless of why you have to avoid the food I always say it's an allergy. They're more likely to respond well to an allergy request than an "I don't eat that" request.
Eating with Friends or Family Tips:
Ask for the menu ahead of time. Let your host know you have allergies and you want to be sure there are safe foods. It's much easier to work through the details in advance than showing up and having to decline everything offered.
Offer to bring a component of the meal. If grains are the problem you can offer to bring homemade bread or rolls that are safe. Maybe you want to be sure there will be plenty of vegetables. Offer to bring a salad or roasted vegetables. Bring something safe so there will be at least one thing you can eat.
Eat a light snack before you go. Then even if there are limited options you won't go hungry. Enjoy what you can eat and focus on enjoying time with friends. Don't draw attention to the food.
Be the host. This is usually my default. I'm glad I like to cook! Since my kids are the ones with allergies I try to take the responsibility of hosting and preparing special food.
Speak up! This applies to friends and families just as it does to restaurants. Most people are more than happy to accommodate special diets. If it's someone I don't know well I still always call any food restrictions allergies.
It's Just Food.
Food restrictions tend to cause me anxiety. Sometimes the most important thing is to remember it's just food. It's just one meal. Focus on the conversation and the company. Know that most people want to help and are more than happy to make special accommodations for you. It may take a little courage, but you can work around food allergies without being stuck at home. Then you can turn around and be a blessing to someone else when it's your turn to host. It's always my first question when I invite someone over for a meal – do you have any special dietary needs? When the host starts the conversation, it makes the whole process easier for everyone.
There is no need to shy away from family gatherings or a special meal out when dealing with special dietary needs. Simply follow these tips to make it an enjoyable experience for everyone!
How do you cope with special diets when you're not at home? Do you have any tips to add to the list?