This post may contain affiliate links which won't change your price but will share some commission.
Real foodies love cookbooks and kitchen gadgets. But don't forget about the little ones. Here are my top picks for little foodie gifts.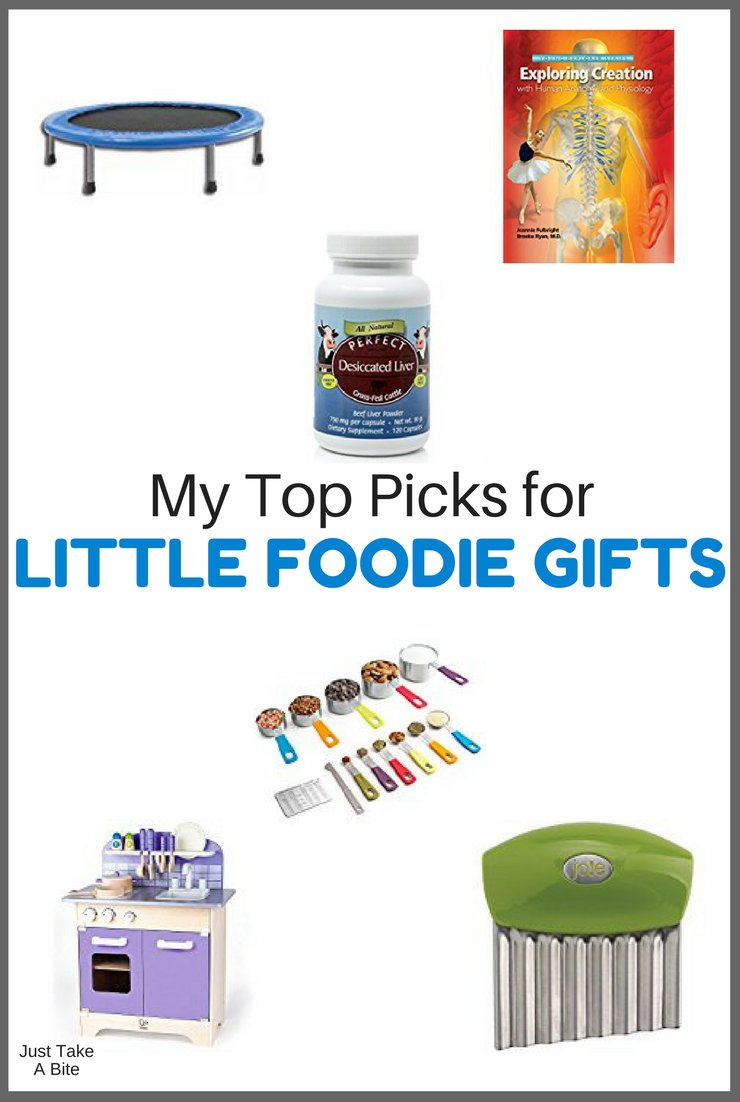 If you want your kids to grow up knowing about real food, you have to teach them. What better way than with some Christmas gifts that promote real food and natural health?!
My kids love all things related to food – cooking food, eating food, learning about food and nutrition. So it's no surprise that my gift list for little foodies isn't that different than my list for adults. Just a little more age appropriate.
My kids have or want everything on this list. So it really is little foodie approved!
Desiccaated Liver
Now you might think I've really lost it. I put liver at the top of my gift list and now on my kids' gift list! I really truly believe it is that important. Although my kids would not want a jar wrapped up under the tree, they do understand how nutritious it is and request to add it all sorts of foods.
Soon I'll be sharing my son's secret taco seasoning recipe – which includes lots of desiccated liver. My youngest likes to put liver on her salads.
While this may not be a stocking stuffer, using liver in your cooking will give your kids the gift of good health. And it doesn't get much better than that.
You can always get an extra 10% off using my code TAKE10. I already stocked up for the year. Merry Christmas to all my kiddos! Grab yours HERE.
Kids Cook Real Food eCourse
Making nutritious food for your kids is a wonderful gift. The next best thing…teaching them to cook good food! It's the gift that won't take up space and will benefit them for a lifetime.
My six year old loves to cook dinner with me. By the time he is college age he'll practically be a chef. I keep saying he is going to make an amazing husband someday.
My girls beg to help in the kitchen too. That's why we've been doing the Kids Cook Real Food eCourse for two years now! Even as early as age two kids can learn to use knives, proper measuring skills and how to follow a recipe.
This really is a gift for you too. Wouldn't you love for your kids to be able to get up in the morning and make breakfast? With the KCRF eCourse they will!
Grab a spot today in the Kids Cook Real Food course! This is a great gift for Grandpa and Grandma to get the kids.
Kitchen Tools
If you teach your kids to cook…they're going to want some kitchen tools. Trust me on this one. My kids LOVE having their own set of measuring spoons and cups, knives and other little gadgets like crinkle cutters.
This can be a great way to encourage a child that is hesitant to help in the kitchen. It also teaches your child responsibility by needing to take care of their own equipment.
Last year my oldest got a set of knives for Christmas. Now every time she helps with chopping she HAS to use her knives. Maybe this year I'll get a set for my son. Yes, a six-year old can safely use sharp knives! They learn how in the Kids Cook Real Food eCourse.
Chef Coat/Hat/Apron
Of course when your kids start working in the kitchen with their new skills and new tools they will have to look the part. Last winter my oldest and I made super cute aprons for each child. They grab them whenever they help me cook. Or even just to set the table. My son likes to fill the pockets with silverware and pretend he works at a restaurant.
This year I think we might go a step up and get the older kids chef coats (like these)! My daughter wants to be a baker some day. And my son really loves to cook. They will be thrilled to look like a real baker and chef with the proper attire.
Again, it's one more way to encourage kids to learn about food, nutrition and how to cook. It's a win for everyone.
Cookbooks
My oldest is an avid reader. She has been since she was a few months old. I could read book after book to her when she was literally three months old. It was crazy.
Now at age nine she still devours books. One of her favorite things to read is a cookbook! It's actually a great way to teach younger kids to read too. Get one with lots of pictures to help those younger readers (and for those that just love to see good food). Then you can look through it together or they can read on their own.
Choose some recipes to make together. Or for older kids challenge them to try a new recipe on their own for dinner some time!
Here are a few good ones:
The Nourishing Traditions Cookbook For Children

Nutrition Books
I may be getting a bit nerdy here. But this is how important nutrition is to me. I really want my kids to understand why we eat the way we do. I want them to understand how to care for animals, how to grow our own food and how it helps our bodies. Not to mention how we eat is important for taking care of God's holy temple.
This year for science we chose to study human anatomy and physiology. My kids LOVE it! They beg to do science every day. We just finished learning about the digestive system and are now learning about nutrition. Perfect! This is the curriculum we are using.
I know not everyone homeschools. But that doesn't mean you can't study nutrition! Find age appropriate books (or even "study" some cookbooks) and make time to read them often.
We love these books about eating the rainbow that are simple yet show what each color of the rainbow does for our bodies.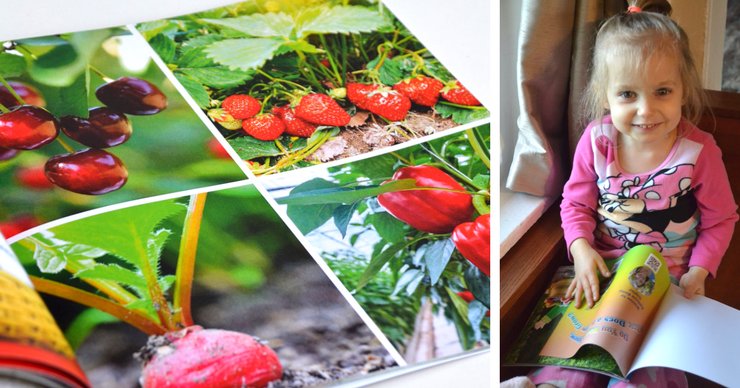 Play Kitchen
Hands down the toy all of my kids play with the most is our play kitchen and food/dishes. We started with just a small bucket of play food when my oldest was about two. It has evolved now into a full bin of dishes and food. They make elaborate feasts and love to play restaurant.
This is the kitchen my youngest just got for her birthday. It is the perfect size for little hands. And all of this pretend play helps develop a love for working with food.
The sets that allow kids to practice cutting are great leads into real kitchen skills!
Mini Trampoline
Little foodies need to focus on health in addition to real food. A mini trampoline (like this one) is a great way to get out energy. But more than that it is wonderful for the lymphatic system. Every bounce or tap helps drain the lymph nodes.
When I did Hair Tissue Mineral Analysis for my girls one of the action items on their plan was to rebound for ten minutes every day! Kids think it's fun. But it's more than that. It is so good for them!
Crunchy Balm
Last on my list is another repeat from my real foodie gift list. Crunchy Balm. My son uses it daily when his legs get itchy. I love the quality ingredients (tallow and essential oils) and how well it works.
This year I think I'm getting my oldest some of the Crunchy Organics lip balm. She's at the age where she is interested in "beauty products." But there are very few products that I will let her use because I am picky about ingredients. I totally trust this lip balm. It's on my list too! I ran out of my last one. It's the only thing that keeps my lips from cracking in the winter.
And for the older crowd Crunchy Organics has deodorant too! Another product that requires careful consideration due to potential harmful ingredients. There are a few different scents so it works well for boys or girls! I think this will be another stocking stuffer for my oldest.
Time to Shop!
It's so fun to shop for little foodies! I love encouraging my kids to understand where their food comes from and why it's important. Let's raise a new generation of good stewards, taking care of God's creation. Start small with some fun Christmas gifts!