This post may contain affiliate links which won't change your price but will share some commission.
Christmas is just around the corner. What should you get for the real foodie in your life? Here are my top picks for the perfect real foodie gifts that will help promote natural health and well-being.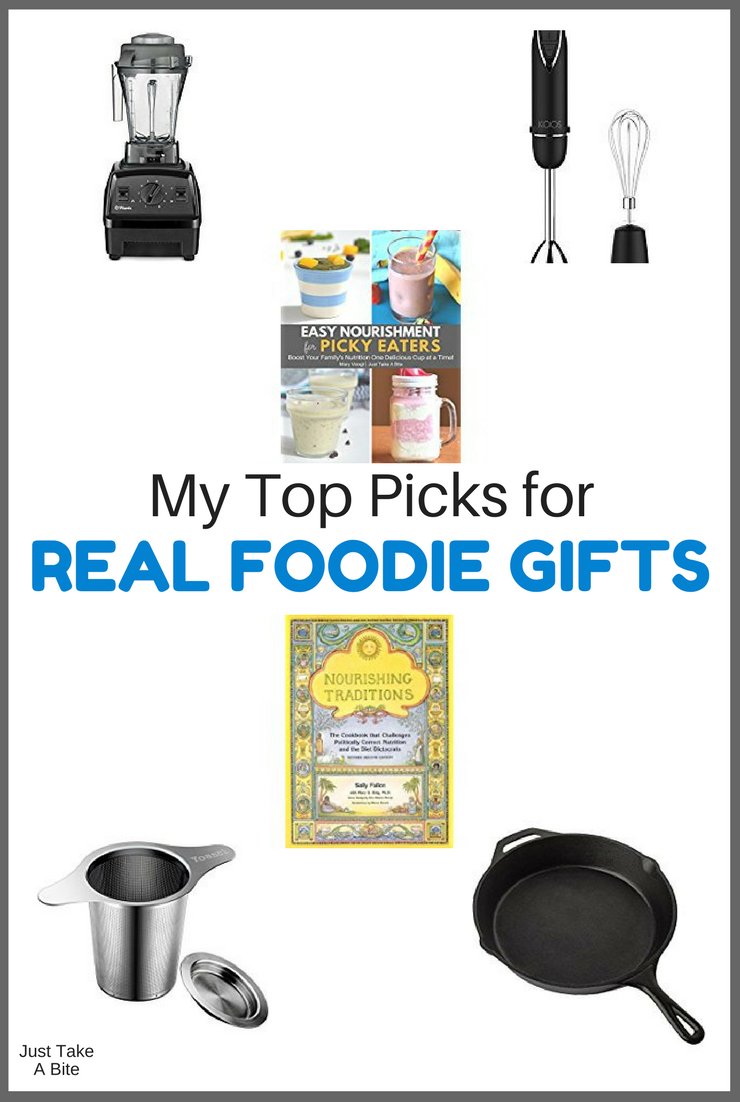 If you're like my kids you want to listen to Christmas year round. If you're like me you don't mind the music, but you kind of dread all the hustle and bustle of buying gifts and all the other to-do's for the holidays. And you tell yourself every year you are going to start early…and then Thanksgiving rolls around and you haven't even started.
Don't panic! (I'm saying that for my own benefit.) Today I'm sharing my top picks for gifts that any real foodie would love. Don't forget that Black Friday is coming up in a few days. There will be great deals on pretty much all of these!
Desiccated Liver
Yes, liver tops my list!! Maybe I'm crazy. But that's how much I love it. I use the Perfect Supplements brand desiccated liver. And I am so thrilled that they now carry it in powder form instead of just capsules.
I put liver in literally everything we eat because it is so nutrient dense and has more Vitamin A than just about anything else you can eat. I add it to meatballs, tacos (my son has his own taco seasoning recipe with liver), salads, smoothies and even caramel!
Whether you are a fellow liver lover or you've never tried it, now is a great time to stock up. Get 10% off using the code TAKE10. I might just try to stock our pantry with desiccated liver for the year! No, I'm not even joking. With little kids and trying to focus on prenatal nutrition we go through a LOT of liver. I'd gladly take it as a present. It's like getting the nutritional equivalent of gold.
Grab your liver and other Perfect Supplements products here.
Slow Cooker
The tool I use most often in my kitchen is my slow cooker (a.k.a. Crockpot). I know everyone is crazy about the Instant Pot these days, but I'm still a slow cooker fan. I like to do my meal prep in the morning and be done for the day. Especially on the days where we are gone in the afternoon and don't get home until dinner time. Or on Sunday mornings when everyone is starving as soon as we get home from church. It's a life saver.
Some of my favorite slow cooker recipes are sweet and sour meatballs, meatloaf, split pea soup, mashed potatoes, sausage and lentil chili and pork and beans. And you can never go wrong with a roast, whole chicken or ribs in the slow cooker.
I use my slow cooker so often that it never actually gets put away. It has a permanent place on my counter top.
This is the kind I have been using for years. Though a larger one like this would be nice!
Tea Strainer
This may be a small, simple kitchen tool, but it's another one I use daily. I love herbal teas for helping all sorts of things like supporting your liver, adding minerals and balancing hormones. I buy loose leaf teas in bulk and then make my own mixes depending on what my body needs.
Right now I'm drinking a lot of nettle dandelion tea. I also love to make infusions for myself and for my kids. Add some fresh or frozen fruit to a jar and let the tea steep over night. Such a refreshing and nourishing drink! Nettle is my go-to for just about everything, especially seasonal allergies.
I'm thinking about putting a tea strainer on my list again this year so I have a second one. Then I can make multiple infusions at once!
Crunchy Balm
Winter in our house brings about DRY skin. My husband and two oldest kids especially are prone to super dry, itchy skin. Our favorite remedy is Crunchy Balm. It's made with whipped tallow and essential oils. It is so soft and creamy and really works.
Crunchy Organics has plenty of other amazing products too, like their face cream made with frankincense and a whole line of natural makeup.
I'm not sure how many jars of Crunchy Balm we have laying around the house. I just like knowing there is always plenty on hand. If you deal with eczema or any kind of skin irritation I highly recommend Crunchy Balm.
We do also love Cheshire Fields products. And the creator, Michelle, is so nice. She even made custom products for us to work around allergies! It's hard to find natural products without coconut!!
Immersion Blender
I'm not really sure how I survived before I had an immersion blender. It is my go-to tool for a lot of food preservation during the summer and fall. I use it to puree applesauce, pearsauce and squash.
Making homemade mayo or Miracle Whip is a cinch with an immersion blender. It literally takes five minutes, including the time it takes to get the ingredients out.
Needing foods pureed for a little one? The immersion blender makes it so easy. Cook some veggies, add broth and puree.
We also love to make pureed soups like our favorite squash and sausage soup. I eat it for breakfast lunch and dinner!
There are so many neat brands now. It's hard to choose which one to get!!
Young Living Essential Oils
Are you new to a natural lifestyle? Essential oils are a great way to help boost your family's health. I started using essential oils about three years ago. I started with the Young Living Starter Kit. And I've been using them ever since.
My favorite oil is Pan Away. I have battled hormone headaches for many years. The only way to ease them was with OTC medicine. But now it's so rare that I have to take any medicine. I use Pan Away at the first sign of a headache and it usually subsides shortly after.
Essential oils support your health and work well for cleaning your house safely. I love diffusing oils both during the day and at night. Interested in getting started? Grab your starter kit here!
Vitamix
The Vitamix is definitely one of my favorite kitchen tools. Sometimes I use it three or four times a day. It makes perfect smoothies (like the ones you will find in my book Easy Nourishment for Picky Eaters), even when most of your ingredients are frozen solid!
Hummus only takes minutes in the Vitamix for a quick snack or lunch.
I even use it to grind flour and make homemade powdered sugar. Some years I use it to puree our applesauce, peels and all! It makes such an amazingly smooth sauce. My kids would say that homemade ice cream is the best thing that comes from the blender. The batter is ready in under five minutes. There really isn't much the Vitamix can't do.
Probably one of the things I love most is how easy it is to clean. That only takes seconds too. Talk about fast work in the kitchen.
Grassfed Collagen/Gelatin
Need a powerhouse ingredient to add to those delicious smoothies? Grassfed collagen is a great source of protein. I never make a smoothie without it.
I also use grassfed gelatin to make homemade fruit snacks and all sorts of real food jello salads. You can find all of my recipes using gelatin here.
I love both Perfect Supplements and Vital Proteins brands. Don't forget to stock up on your Perfect Supplements products 11/24 – 11/27 at 45% off using code TAKE10! You can also get some FREE collagen from Vital Proteins 11/24 – 11/27. Use the code PEACELOVECOLLAGEN at checkout for a 5 oz. canister of collagen when you spend $75.
Cast Iron Skillet
Want a juicy burger, a perfectly cooked steak or the best scrambled eggs you've ever tasted? You need a cast iron skillet! A kitchen tools that has been around for centuries is definitely a keeper.
I was nervous when I got my first one. I thought they were hard to use and care for. WRONG. How to use – get it HOT. How to clean – wipe it down when you're done and wipe a little oil on. That's it.
You may want to get a few in different sizes. I love my small skillet for making a batch of scrambled eggs for the kids in the morning. My large skillet is great for steaks, burgers and even taco meat.
Still on my list is a cast iron griddle. That would make some awesome pancakes and bacon!
Grab your favorite size cast iron tools here.
Real Food and Natural Health Books
Last on the list, but definitely very important – you need knowledge to know how to use your kitchen tools and natural health products. That's where books come in. Whether ebooks or hard copies these are some of the best around. Some are part of my personal library. Some I'm still hoping for! You might notice a theme…nourishing yourself and your family.
Family Table (by Shaye Elliott)
Easy Nourishment for Picky Eaters (by Mary Voogt)
Nourished Beginnings (by Renee Kohley)
The Nourished Metabolism (by Elizabeth Walling)
Why Won't My Child Eat?! (by Mary Voogt)
Healthy Snacks To Go (by Katie Kimball)
The Paleo Approach (by Sarah Ballantyne)
Nourishing Traditions (by Sally Fallon) (this is the book that started my real food journey and completely changed the way I looked at food)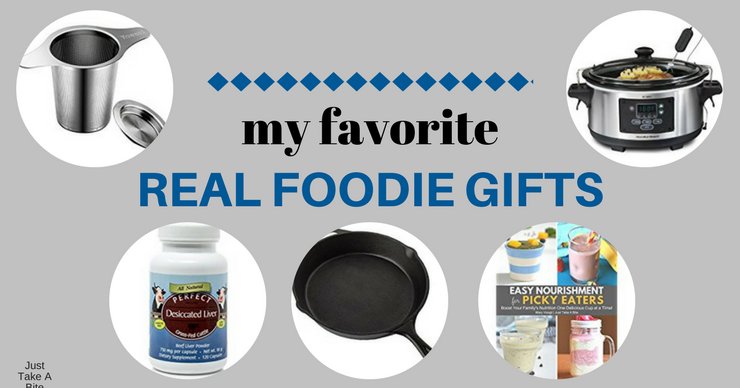 Keep it Simple
I could probably add about thirty more items to the list. There really are so many good ones. But these top my list.
Remember, some nice tea, a cute apron, a night off from cooking, a back rub or a few hours of quiet also make perfect real foodie gifts. And won't break the bank.
You can also keep it simple with homemade hot cocoa or a big bag of kettle corn granola.
What's on your real foodie wish list this year?