This post may contain affiliate links which won't change your price but will share some commission.
This simple squash soup is full of homemade chicken broth and comes together in minutes. Pair it with some soaked teff crackers for a complete meal!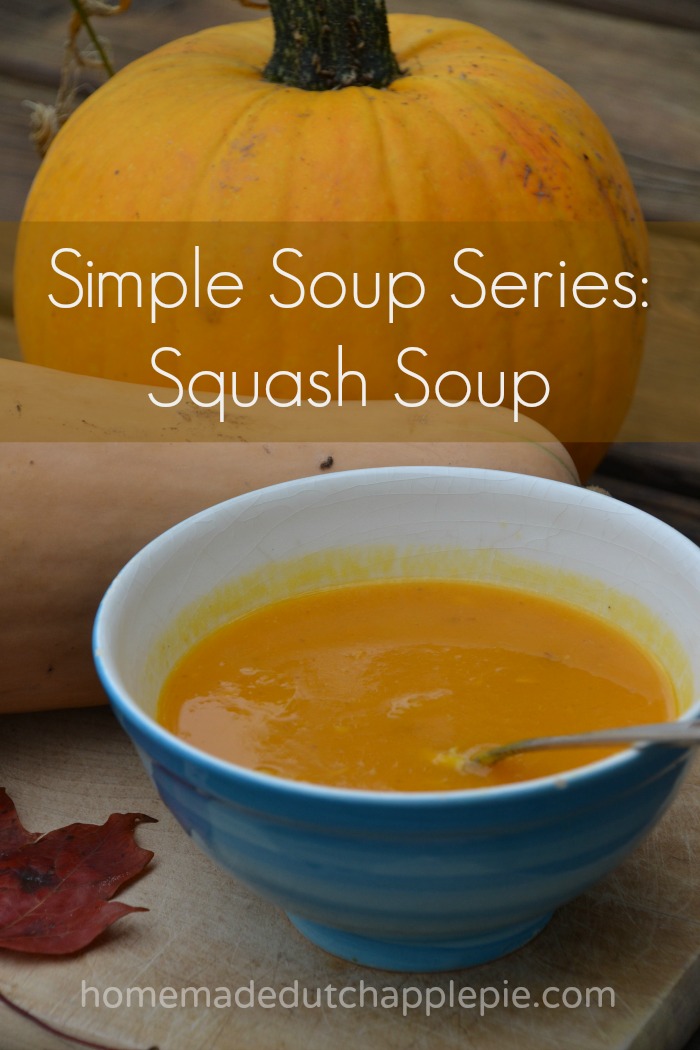 Today I am kicking off my Simple Soup Series. I make soup all the time. But I always forget to post the recipes. So I'm starting by sharing some of my simplest soups.
They take very little time to prepare. They can be prepared in advance. They can be made in a soup pot or the crockpot. Best of all they are so nutritious and very allergen friendly.
Homemade Squash Soup
I have two absolute favorite soups – squash and split pea. I could eat one or the other every single day. I especially love having them for breakfast.
So today I'm sharing my simple recipe for squash soup. It's very versatile. You can keep it pure squash. Or you can add meat and vegetables for texture.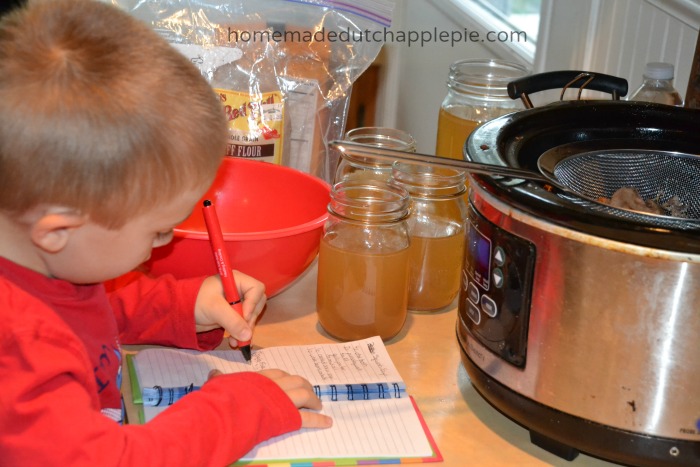 The first two things you need for good squash soup are bone broth and a cute helper to write your recipe. One is more critical than the other, but they both help.
How to Easily Roast Squash
Then you need cooked and pureed squash. I like to roast three or four squash at a time. Simply wash them, place them on a large baking sheet, add water to the bottom and bake at 400*F for about two hours. Then you can easily cut them open, remove the seeds, scoop the flesh into a bowl and puree it with an immersion blender or a regular blender.
Put your squash in storage containers. Use some fresh and freeze the rest. Then you can quickly make squash soup any time.
You can also buy pureed squash at the store. It is in the frozen section.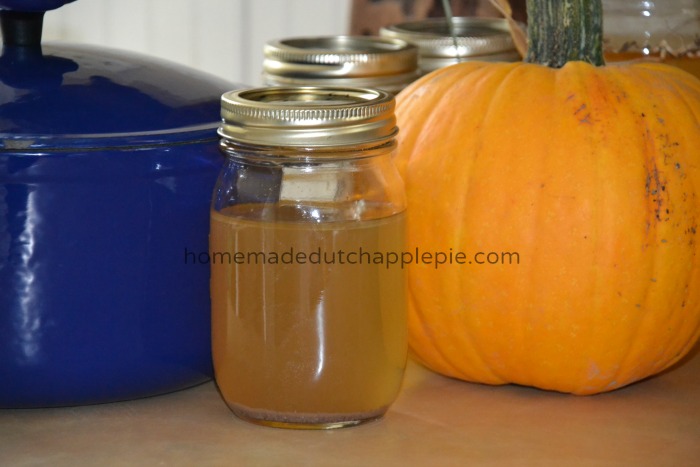 Nourishing Soup with Squash
Once you have your broth and your squash this soup comes together in minutes. Add any seasoning you like. Add any meat or vegetables you like. Simmer for about ten minutes. Dinner is served.
Squash soup makes a great school lunch. It is a thick soup, so it won't spill very easily. It's also easy for young kids to eat without making a mess. Squash soup also tastes great cold. That is always a bonus when packing lunches.
I like to add coconut oil or butter to squash soup for some added healthy fat. If you are going to serve some of the leftovers cold then it is best to only add coconut oil to individual bowls when it's warm. Else it will solidify in the cold soup.
How to Serve Squash Soup to Kids
I usually pair soup with muffins or scones. Crackers and cheese are an easy accompaniment as well.
Squash soup can be ready in about fifteen minutes. It is very nutrient dense with vegetables and broth. And the leftovers make a great breakfast or lunch.
You can also make a double or triple batch of soup and freeze some of it. Then all you have to do for dinner is warm and serve. It's so simple.
Do you enjoy squash soup? What do you like to add to yours?
Simple Soup Series: Squash Soup
2014-10-25 05:20:07
Serves 5
A simple squash soup that is ready in 20 minutes.
Ingredients
4 cups chicken broth (homemade)
4 cups pureed squash
1 tsp. sea salt (to taste)
1/2 tsp. garlic powder (to taste)
2 Tbsp. coconut oil (optional)
1 cup cooked, cut up chicken or cooked sausage (optional)
1 cup cooked white beans (optional)
1 Tbsp. collagen (optional)
Instructions
In a large saucepan combine the broth, squash, salt, garlic powder, coconut oil (if adding, see note), collagen (if adding), meat and beans.
Bring to a boil, reduce heat and simmer for 10 minutes.
When the soup reaches the desired thickness adjust the seasoning to taste.
Notes
If the soup is thinner than you'd like continue to simmer until it thickens.
If you will be eating leftovers cold do not add coconut oil to the soup. It will harden. You can add coconut oil to individual bowls when the warm soup is served.
You can replace the beans with peas, corn or tomatoes.
You can also make this soup in the crockpot. Add all of the ingredients to the crockpot and cook on low for 3-4 hours.
Just Take A Bite https://justtakeabite.com/
This post is linked to
From The Archives Friday
.