This post may contain affiliate links which won't change your price but will share some commission.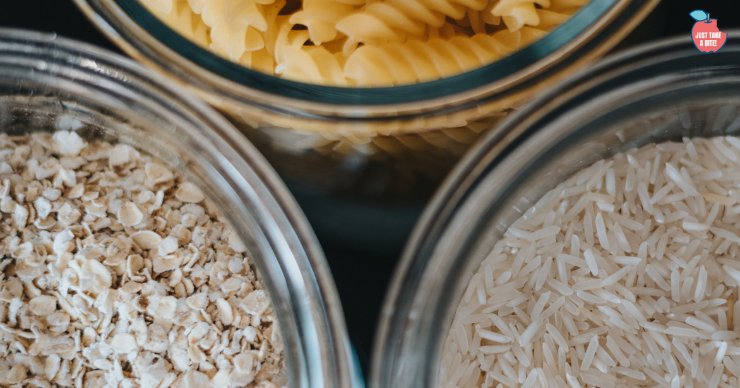 "I feel like my stomach is going to burst."
I can't even count the number of times I've said that to my husband in our 15 years of marriage (poor guy). Bloating and gas have been my biggest health complaints for a LONG time.
Actually since I was very little. Though back then I didn't know what it was. I just knew my tummy didn't feel good. The constant pressure on my bladder that it created, making me have to use the bathroom over and over was what started my anxiety around the age of FIVE!
As you can imagine I've tried just about everything over the years to get rid of it. Every diet. Every supplement. Every exercise. You name it, I've probably tried it. Everything from prescription anti-spasmodics to anti-depressants (yes, my doctor prescribed that for my GI problems) to prescription Miralax. And of course all of the natural stuff too (after I learned about natural health).
And guess what? None of it worked.
By trial and error I did learn some of my worst offender foods. So I strictly avoided those. Which helped some. But having to avoid a bunch of foods for your whole life just to not be bloated does not seem like a solution.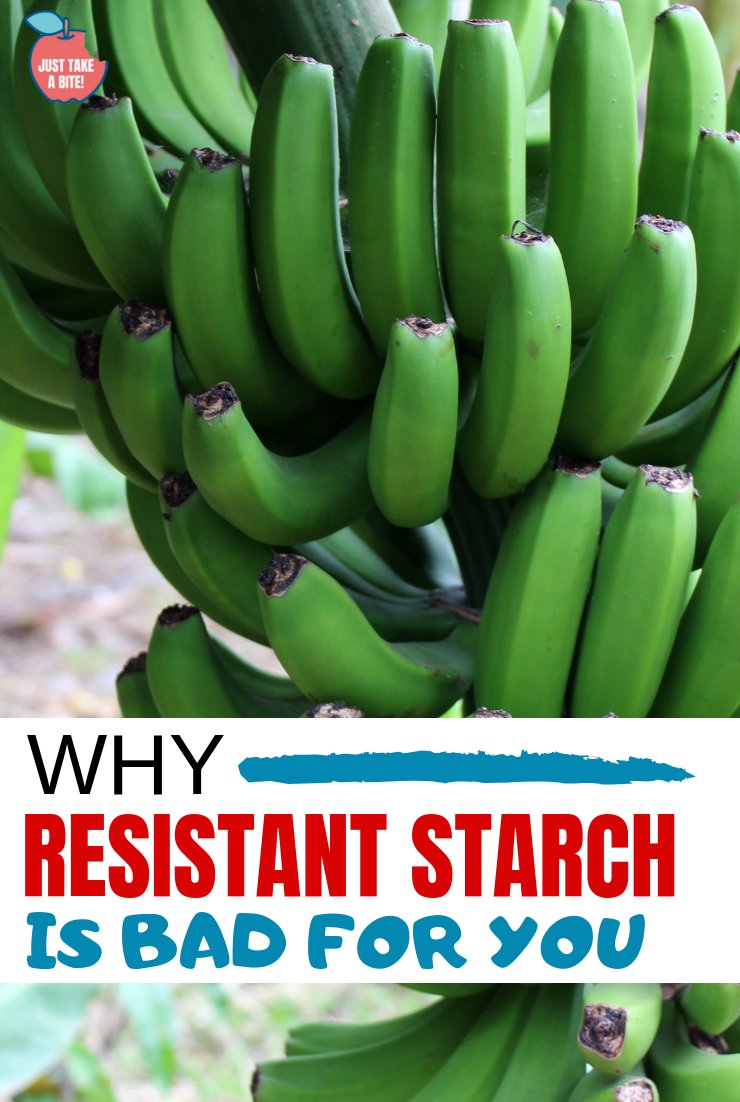 What is Resistant Starch?
Everyone was talking about resistant starch for a while, claiming it's health benefits for the gut. In fact, if you do a search for resistant starch that's all you see – health claims. I haven't heard about it as much lately. And probably for a good reason. It's not doing you any favors.
But before I dig into the why, let's back up and talk about what resistant starch is.
As the name suggests it is starch. The unique part is that it goes through your digestive tract undigested! It is resistant to digestion. So it's acts sort of like soluble fiber. But it isn't the same as soluble fiber. Some call it a third type of fiber.
When resistant starch reaches your colon it feeds your bacteria. This in turn produces gas (eek!) and short-chain fatty acids. The most notable short-chain fatty acid is butyrate. You can read a little more detail about the process and the four types of resistant starch here.
What does Resistant Starch Do?
So resistant starch helps your body produce butyrate. If you've been around the natural health world long enough that's probably a term you've heard too. In a good way. Some claim it helps fight cancer, inflammation, weight gain, and insulin resistance. Those are all great benefits.
The hardest part for me to handle is the fermentation. Hello, gas and bloating!
Whenever I hear a health claim I also like to look back and compare our modern thoughts with how people used to eat. If resistant starch is mostly found in pre-cooked/leftover food it makes sense that it was not consumed in large quantities. People didn't used to have refrigerators. You cook and eat. Whatever is left you toss. They also didn't have processed foods like chips and pasta.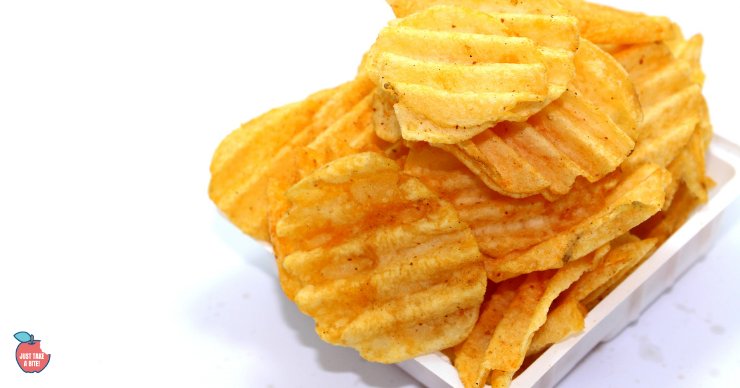 What Foods Contain Resistant Starch?
Are you wondering if you are eating a lot of resistant starch? It's easy to do! Do you eat leftover rice or potatoes? Are you a fan of the cook once, eat twice method? Do you like some green on your bananas? Then you are in the high resistant starch camp.
The foods highest in resistant starch are:
oats (especially raw or cooked then cooled)
cooked and cooled rice
raw potatoes or cooked and cooled potatoes
cooked and cooled or canned beans and lentils
potato starch
corn
green bananas and banana flour
cooked and cooled grains
nuts (especially cashews) and seeds
As I look back on my eating habits over the past (almost) 40 years I know I've been eating a high resistant starch diet! It's no secret that I am the leftover queen. I think macaroni and cheese tastes better leftover…and cold! Even as a child I would snack on cold leftovers. My salads used to consist of lettuce topped with all of my kids random leftovers from the week. In college I lived on canned beans and granola. As in HAD to have them every day.
Want to know the foods I eventually cut out of my diet by trial and error?
oats
potatoes
bananas
beans
corn
nuts
seeds
Notice any similarities there? Yep. I had cut out a lot of resistant starch without even knowing it!
How to Avoid Resistant Starch
What exactly is the right way to eat the foods that could be high in resistant starch? It's simple…but not easy. Unfortunately it requires more effort. Sorry, no cooking a big batch of oatmeal at the start of the week to reheat every morning. But it is worth it to not have all the gas and bloating!
Here are my tips for avoiding resistant starch without completely eliminating some favorite foods:
Only eat freshly cooked grains and potatoes (this likely eliminates potato chips).
Avoid granola and overnight oats. Freshly cooked rolled or steel cut oats are ok. Steel cut are better because they are not as processed.
Avoid leftover or canned beans and lentils. Freshly cooked are fine.
Only eat fully ripened bananas.
Avoid prebiotics like inulin.
Baked goods are ok as the resistant starch is greatly reduced in the baking. When the structure of the food is changed (puffed rice, bread, etc.), the resistant starch is broken. I think this also holds true for my homemade rice milk since the blending destroys the starch. I'm not sure about pasta. You'll have to see how your body responds to it.
This does make you wonder if this is a factor in why some people feel better on a grain-free diet. Or even on some healing diets that eliminate grains, legumes and potatoes! The resistant starch is removed.
Ultimately you have to watch your own resistant starch intake and take note of symptoms to see how much you can handle. But if you are struggling with gas and bloating, resistant starch could be contributing. Working on gut health and improving the health of your microbiome may help you tolerate more resistant starch.
My Resistant Starch Intake
I'm learning more and more about my own digestive system. Along with resistant starch I had cut a lot of fiber out of my diet for many years. I need to find a middle ground. I need the fiber to help with gut motility. BUT I can't have too much resistant starch. Funny how all of the foods I figured out caused my problems years ago are the ones high in resistant starch!
I've been able to add most of them back in to my diet. But I have to do it the right way. I can eat beans without getting gassy…as long as they are freshly cooked. But canned beans cause problems. I'm curious to see how this impacts my nursling's tummy as well since he often has a lot of gas.
A few months ago I started eating a low histamine diet. That excludes leftover proteins. And now low resistant starch means no leftover grains. Basically I need a diet of freshly cooked whole foods. Mind blowing, huh? But it is hard in our fast-paced world. We tend to reach for convenience. Let's get back to natural. Let's get back to fresh. Have your kids help cook (learn how here). Make it a family affair. Freshly cooked, whole foods as much as possible. Let's step away from convenience and towards better health.
Do you eat a high resistant starch diet? Have you noticed any digestive problems from it?