This post may contain affiliate links which won't change your price but will share some commission.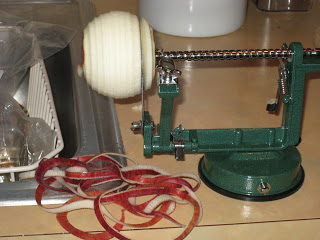 I canned my first batch of applesauce of the season last night. I finally got to try out my apple peeler. All I can say is WOW! What a time saver. If you want to do any significant amount of canning and/or baking with apples I highly recommend getting one. It only takes a few minutes to peel, core and slice enough apples for a whole batch of sauce (15-17 LARGE apples) instead of like a half hour doing it by hand. I wish I had gotten one years ago.
Since I didn't have a ton of time last night I did a batch of chunky applesauce. I added sugar to this batch…it will be for Justin and me (or Rebecca when she's older). I cooked another batch this morning before breakfast (that's how fast it goes with the peeler:). I'll run that through the food mill and can it later today. I didn't add sugar to this batch. Hopefully it's sweet enough. Some of the apples are kind of tart this year.
I've still got lots of apples, so I'm hoping to do several more batches of sauce…especially since it's so fast now. I want to freeze some sliced apples. And I'm hoping to try apple butter tomorrow. I got Justin's mom's recipe. Looks like it takes a while, but it's soooo good (I've had hers). So we'll see how it goes. I'll post that recipe after I make it. Here is the basic applesauce recipe…also from Justin's mom
.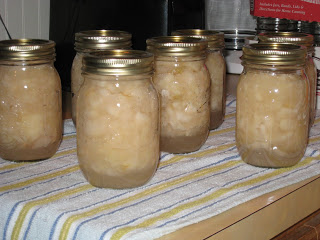 Canned Applesauce
4 1/2 qts. apples, peeled, cored and roughly chopped into big chunks
1 qt. water
1 cups sugar (optional)
Boil water with sugar.
Add apples. Bring to a boil.
Boil 5 min.
Can in boiling water for 20 min. Makes 7 pts. (Can in boiling water for 25 min. if using quarts).
*This is the original recipe. From experience here is what I've come up with that works for me:
30 med – large apples
3 cups water
*After cooking the apples for a few minutes I mash them with a potato masher to break them up a bit more.
** I puree the apples in my Vitamix for smooth applesauce. When using this method you don't have to peel the apples. The peels blend right in.