This post may contain affiliate links which won't change your price but will share some commission.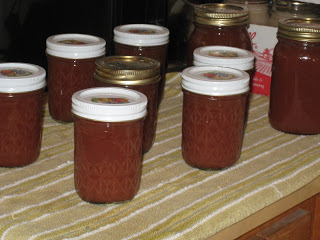 I made my first batch of apple butter this morning. I LOVE apple butter. I had never had it before I met Justin. His mom makes it. I've been hooked ever since. This recipe is from Justin's mom. Very good. I used the apples they gave us and cider they made from their apples too. I wasn't sure exactly how much it would make. I ended up doing 2 pints and 7 half pints. Plus a little extra to go in the fridge (maybe 1/4 pint).
Apple Butter
4 1/2 qts. apples, peeled, corred and sliced (I used 16 or 17 LARGE apples)
1 qt. water
1 qt. apple cider
3 cups sugar
1 tsp. cinnamon
1 tsp. allspice
1/4 tsp. cloves
Cook apples with water until soft (5-10 min.). Press through sieve (I used my food mill on the finest setting). Add cider and sugar. Bring to boil. Cook on low until thick (a/b 3 hours). Add spices. Process 10 min. in boiling water. Makes 4 1/2 – 5 1/2 pints.