This post may contain affiliate links which won't change your price but will share some commission.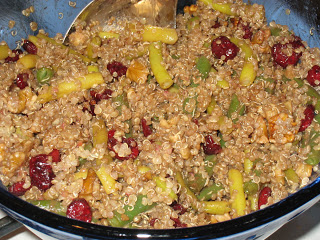 I squeezed in one more grain this month 🙂 I made a quinoa salad last night. The recipe is from Food Network. I think it's meant to be a side dish, but I served it as a main dish and our meatless meal for the week. The reviews…I thought it was awesome!!!! I wanted to eat the whole bowl 😛 Justin liked it, but not as a main dish. He said he couldn't eat a huge quantity at once. I kind of figured that would be the case. So, I had seconds and Justin didn't finish what was on his plate. That doesn't happen very often. This was our first taste of quinoa. Very good. And super easy to make. I just wish it wasn't so expensive. This was a very light and healthy dish. And since I shaved a little paremsan cheese over top it had something from every food group in it! This is a very good base salad. You could add different veggies to it. And feta cheese crumbled on top would probably be good too. The other nice part is that you make it ahead of time (since it's a cold salad). Always a bonus to be able to prep ahead. I only made a half batch and it made plenty. I'm excited for leftovers 🙂
This post is linked to the Whole Foods for the Holidays progressive dinner – salad course.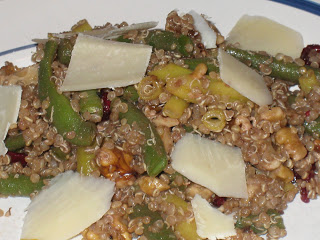 Cranberry Walnut Quinoa Salad
serves 10
1 cup quinoa
1 cup dried cranberries
1 cup frozen green beans, defrosted (I cut them into bite size pieces)
1/4 cup walnuts, chopped (soaked and dehydrated)
1/4 cup green onions, sliced (I left these out since I didn't have any)
1/4 cup balsamic vinegar
1 1/2 tablespoons olive oil
4 cloves garlic, minced
1/2 teaspoon salt
1/4 teaspoon pepper
(crumbled or shaved cheese for topping)
Combine quinoa with 2 cups water in a medium saucepan and bring to a boil over high heat. Reduce heat to a simmer, cover, and continue cooking until all water is absorbed. (I cooked it for 12 min. Then left it covered for 15 min. off the heat.) (To make this easier to digest soak the quinoa over night, then proceed with recipe)
In a medium bowl, combine cooked quinoa, dried cranberries, green beans, walnuts, and green onions until well mixed. In a small bowl, whisk the balsamic vinegar, olive oil, and garlic until well blended. Pour over the quinoa mixture. Toss until well blended. Season with salt and pepper, to taste. Chill in the refrigerator for at least 30 minutes before serving.
Add cheese as desired.