This post may contain affiliate links which won't change your price but will share some commission.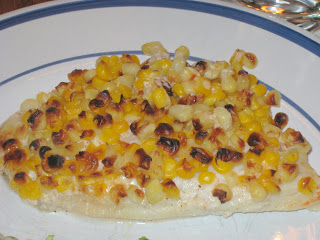 I tried a new recipe last night. I got it from my SIL. It's a RR recipe. Super simple and super yummy!!! I finally made one meal with seafood for the month. And was able to use up some frozen Tilapia that had been in the freezer for a while. The roasted corn really makes the dish…really sweet, lots of flavor. All 3 of us liked it. It's definitely on my keeper list, especially since it's gluten free. I didn't serve it with limes.
Tilapia with Roasted Corn
1/4 cup mayonnaise
2 tsp. chili powder
1/4 tsp. salt
4 tilapia fillets (1 pound total)
1 1/2 cups frozen corn, thawed
1 lime, cut into 4 wedges
Preheat the broiler. In a small bowl, combine the mayonnaise, chili powder and salt. Grease a 9-inch square baking dish with 1 teaspoon of the mayonnaise mixture. Place the tilapia fillets in the baking dish and coat with the remaining mayonnaise mixture. Top with the corn. Broil until the corn is lightly browned and the fish is cooked through, about 10 minutes. Serve with the lime wedges.