This post may contain affiliate links which won't change your price but will share some commission.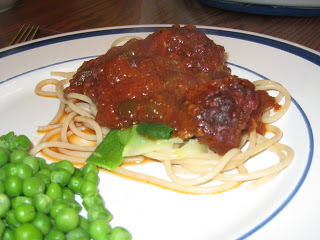 This isn't so much a recipe. It's just what I threw together today. And it was so good!!! Justin loved it…although he loves anything remotely close to spaghetti with meat sauce 😛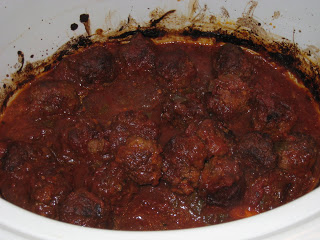 I made meatballs this morning using 1 lb. of Voogt ground beef, some grated zucchini, some whole wheat bread crumbs, some grated parmesan cheese and seasoning (not a lot of any particular add-in…Justin likes to taste the meat :). I got 21 meatballs out of it. I browned them first. Then I put them in the crockpot with 1 pt. of my homemade sauce and let it cook on high for a bit to get going and then on low while we were at church…about 6 hours of cooking total. The meatballs were so flavorful and moist!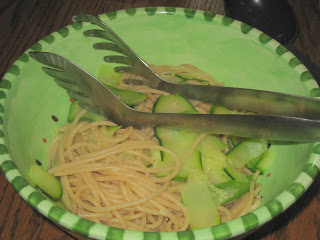 Then I made whole wheat spaghetti noodles (organic). I peeled a small zucchini (from our garden) into ribbons and added it to the cooking pasta during the last few minutes. I didn't use much zucchini since this was an experiment and Justin isn't a huge zucchini fan. But he said he couldn't even taste it…in the pasta or the meatballs. So I think I'll be trying it again…with a little more zucchini and/or squash. Sneak a few more veggies into the meal 🙂 Maybe sometime I'll trying serving the sauce over just zucchini…replace the pasta. But we'll take baby steps 😛 This was a great meal, and now we have leftovers for Justin's lunch, leftovers for another dinner (serving the meatballs on their own…not over pasta) and leftovers for Rebecca. She LOVES ground beef. A definite keeper for a yummy summer meal…and no oven 🙂