This post may contain affiliate links which won't change your price but will share some commission.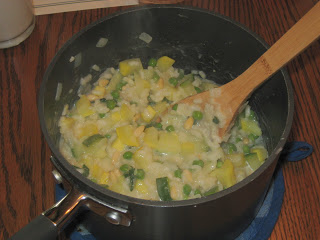 I came up with my own risotto recipe for yesterday to use up some zucchini. It turned out really well! I used fresh basil, pine nuts and paremsan cheese…that's why I call it pesto risotto. I didn't actually make/add pesto, but I added the main pesto ingredients. I didn't measure anything, but I'll try to write down what I did. Justin and I both LOVED this. That's one more meal where Justin said he actually liked zucchini 🙂 I didn't make a huge batch…enough for our meal and a lunch. It could easily be doubled or tripled.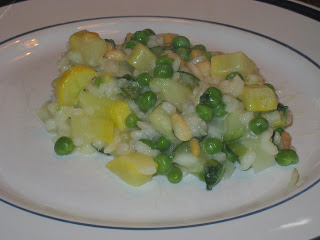 Zucchini Pesto Risotto
1/2 cup arborio rice
3 cups chicken broth
1 small onion, diced
1 medium green zucchini, chopped
1 medium yellow squash, chopped
3/4 cup frozen peas
1 cup grated paremsan cheese
6-8 fresh basil leaves, ripped or chopped
1/4 cup pine nuts
1 Tbsp. butter
salt and pepper to taste
2 Tbsp. EVOO
Warm broth in a saucepan. In large pan saute onion, zucchini and squash in oil, about 5 min. Remove most of the zucchini and squash. Place in a bowl and add frozen peas. Set aside. Add rice to pan. Cook about 3 min. Add 1/2 cup chicken broth, stir. When broth has been absorbed gradually add warm broth one ladle at a time, stirring, until absorbed for about 18 min. total. After 10 min. add veggies back to pan. Continue the broth/stir step. During the last 3 minutes add the cheese, basil, pine nuts, salt and pepper. Remove from heat and stir in butter. Serve with extra cheese and pine nuts to sprinkle on top.