This post may contain affiliate links which won't change your price but will share some commission.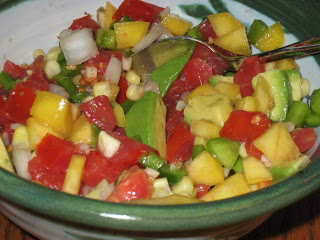 Last night I made corn and goat cheese quesadillas for dinner. I added some diced zucchini and summer squash to them (cooked them with the corn). Another hit! This is the 3rd meal in a row with zucchini that Justin has really liked 🙂 I love that zucchini can be used in so many ways.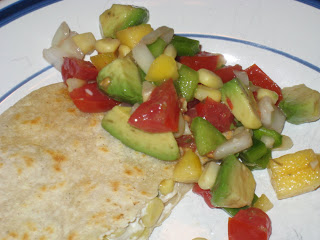 Normally I make my white bean avocado dip when I make anything Mexican. But I decided to try a new salsa recipe that uses peaches!! I found it on All Recipes. The recipe says to use canned peaches, but I used fresh. It was really good. The peaches add just a hint of sweet and brightness, but not a strong flavor. I added diced green pepper and left out the jalapeno…we're not spicey people. And I added a little corn that I didn't need for the quesadillas. Depending on how large or small you dice the veggies this could be a salsa or a salad. It would probably even be really good over rice with some black beans mixed in for a complete meal. I prepped this in the morning and then just added the avocado about a half hour before dinner. That seemed to work well.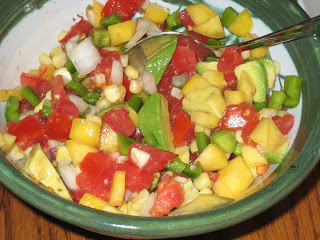 Peachy Avocado Salsa
1 (15 ounce) can sliced peaches, drained and diced (or fresh, peeled and diced)
1 medium ripe avocado, diced
1 Tbsp. lime juice
2 cups diced, seeded tomato
1/4 cup diced onion
2 Tbsp. minced fresh cilantro or parsley
1 Tbsp. cider vinegar
1 Tbsp. seeded chopped jalapeno pepper (I used half of a green pepper, diced)
1 garlic clove, minced
1/4 tsp. salt
*black beans, corn can be added
In a bowl, combine the peaches, avocado and lime juice. Add the remaining ingredients; lightly toss just until combined. Refrigerate for at least 30 minutes. Serve with tortilla chips, fish or chicken.