This post may contain affiliate links which won't change your price but will share some commission.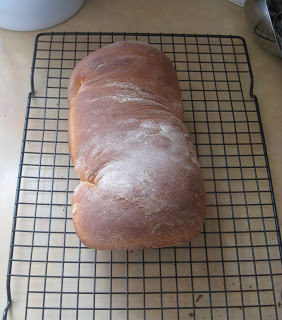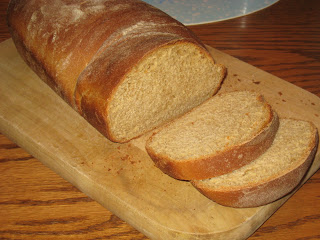 I finally tried my stand mixer yesterday!! I have to say, I felt like I was cheating, like I wasn't really baking. I didn't have to do any work 😛  At the same time it was nice for it to be easy for once. I made a loaf of whole grain wheat bread. It's a recipe that came with my mixer. Pretty simple. And very good. I realized yesterday morning that I didn't have enough whole wheat flour in the house for it. But I had a whole bag of white whole wheat flour. So I used that instead. Still turned out fine. And I followed their instructions for shaping a loaf of bread. I had never done that before (roll out the dough, roll it up, tuck in ends). That worked well too. And I got to try my new french rolling pin. Love it! And Rebecca had fun helping with it too. I only made a half recipe (1 loaf).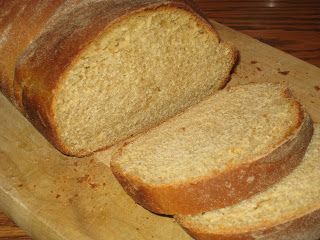 Whole Grain Wheat Bread
1/3 cup + 1 Tbsp. brown sugar, divided
2 cups warm water (105 – 115 deg. F)
2 pkgs. active dry yeast (4 1/2 tsp.)
5 to 6 cups whole wheat flour (I used white whole wheat)
3/4 cup powdered milk
2 tsp. salt
1/3 cup oil (I used canola)
Dissole 1 Tbsp. brown sugar in water in small bowl. Add yeast and let mixture stand.
Place 4 cups flour, powdered milk, 1/3 cup brown sugar, and salt in mixer bowl. Attach bowl and dough hook to mixer. Turn to Speed 2 and mix about 15 seconds. Continuing on Speed 2, gradually add yeast mixture and oil to flour mixture and mix about 1 1/2 min. longer. Stop and scrape bowl if necessary.
Continuing on Speed 2, add remaining flour, 1/2 cup at a time, and mix until dough clings to hook and cleans sides of bowl, about 2 min. Knead on Speed 2 about 2 min. longer.
Place dough in greased bowl, turning to grease top. Cover. Let rise in warm place, about 1 hour, until doubled in bulk.
Punch dough down and divide in half. Shape each half into a loaf. Place in greased 8 1/2×4 1/2×2 1/2 in loaf pans. Cover. Let rise in warm place, about 1 hour, or until doubled in bulk.
Bake at 400 deg. F for 15 min. Reduce oven temp to 350 deg. F and bake 30 min. longer. Remove from pans immediately and cool on wire racks.