This post may contain affiliate links which won't change your price but will share some commission.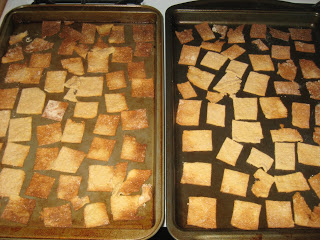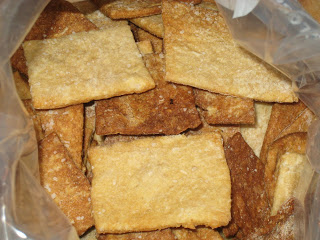 Rebecca and I were housebound yesterday since we both have colds. We didn't visit my grandparents as planned…don't want to get them sick! And Justin had his first class of the semester, which means no Daddy around all day. So, Rebecca and I had an entire day of just the two of us, stuck in the house with nothing to do! It was a long day 😛  I hadn't intended to do any more baking this week, but I needed some kind of project to fill our afternoon. I did a quick search of the recipes I've had on hold for a while and decided to try homemade Wheat Thins. I got the recipe from Pete Bakes. They sounded very easy. And they were! And so good!! I love Wheat Thins. A salty cracker with a hint of sweetness 🙂  But I don't buy them anymore. I gave up all that processed junk a while ago. I have to say, these really do taste like Wheat Thins. Seriously. I have to experiment with getting them the right thickness/doneness. Mine were a little too thick I think. And the ones on the edges of the pan got darker than the ones in the middle. But the flavor is spot on. Definitely something I'll be making again and again and again 🙂  As I put them in the cupboard yesterday I realized I currently have homemade graham crackers, vanilla wafers and wheat thins on hand. Not bad 🙂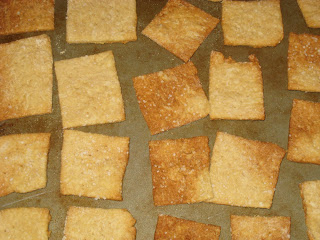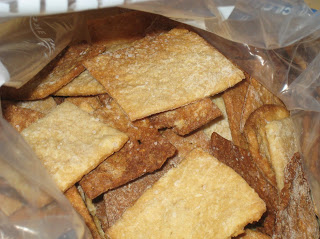 Homemade Wheat Thins
1 1/2 cups flour (all-purpose)
1/2 cup whole wheat flour (I used 1 cup all purpose flour and 1 cup white whole wheat flour)
1/2 cup sugar
1/4 tsp. salt
2 Tbsp. butter (at room temperature)
2/3 cup milk
salt (or other dried herbs and seasoning) for sprinkling
In a large bowl, combine the flours, sugar and salt. Cut in the butter and mix until you have a coarse meal.
Slowly blend in the milk just until you have a dough that will hold together. Divide the dough into 2 pieces for rolling.
Roll the dough out on a floured surface to about 1/8 inch thickness. Sprinkle with salt and roll over lightly with the rolling pin again. Cut the dough into 2×2 inch squares. Poke each square several times with a fork.
Transfer squares to an ungreased baking sheet and bake at 325 F for 20-25 minutes, until crackers are golden brown.