This post may contain affiliate links which won't change your price but will share some commission.
I tried a new squash soup for dinner last night. I've had some cream cheese in the fridge for a while that I wanted to use up. And I was also trying to use up some squash. I did some searching on All Recipes and came across this recipe. I didn't follow the recipe completely…ok, not much at all, mostly just the idea of adding cream cheese. We got home later than we had hoped from shopping yesterday so I totally skipped the onions (I'm sure they would be good/add great flavor). And I used squash that I had already cooked (from freezer). So there really wasn't much to it in terms of cooking. Basically  just throw everything in the pan, heat, blend, serve. It turned out great! Justin and I both really liked it. Rebecca didn't try it since dinner was running late. I gave her pb and j. And for some reason lately she does not like squash at all so I doubt she would have liked it anyway. Definitely a keeper recipe. The cream cheese adds a unique creaminess to it. I never would have thought of adding that. I'll post the original recipe and what I did. I didn't actually measure anything, just added what looked/tasted right. I didn't get very good pics since I was in a rush.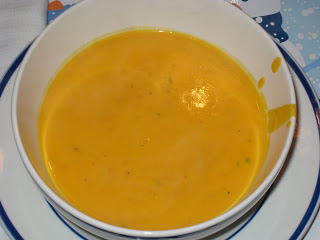 Butternut Squash Soup
6 Tbsp. chopped onion (I skipped this)
4 Tbsp. margarine (I skipped this)
6 cups peeled and cubed butternut squash (I used a combo of mooregold and butternut squash that I had already baked/mashed…maybe 3 cups?)
3 cups water (I used about 1 1/2 cups)
4 cubes chicken bouillon (I used a few teaspoons of organic chicken better than bouillon)
1/2 tsp. dried marjoram
1/4 tsp. ground black pepper
1/8 tsp. ground cayenne pepper (I skipped this and added some garlic powder, paprika and salt)
2 (8 ounce) packages cream cheese (I used about 2/3 of one (8 oz.) pkg., softened)
In a large saucepan, saute onions in margarine until tender. Add squash, water, bouillon, marjoram, black pepper and cayenne pepper. Bring to boil; cook 20 minutes, or until squash is tender. (I skipped all of this and just put the squash, seasoning, water, BTB and cream cheese in a pan and heated).
Puree squash and cream cheese in a blender or food processor in batches until smooth. Return to saucepan, and heat through. Do not allow to boil. (I used an immersion blender right in the pan).