This post may contain affiliate links which won't change your price but will share some commission.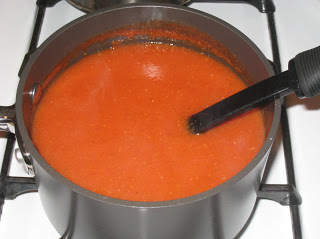 I've been wanting to make tomato soup for quite a while now. While searching for recipes I came across this one on Perfect Entertaining. It sounded simple and good. And it was! Justin and I both really liked it (and Justin has only had tomato soup once or twice in his life!). It went well with grilled cheese. I didn't follow the directions completely. I didn't saute the carrots and onions…they get plenty soft during cooking to puree them, so why waste the time? And I used canned tomatoes instead of fresh (a huge time saver…and much better quality tomatoes at this time of year). It still turned out great. This made a very big batch. I decided to remove some of the soup and put it in a sauce pan (enough for our dinner) and then add the cream to that. I froze the rest in smaller containers. Now I have 7 containers of homemade tomato soup on hand! No more boughten canned soup 🙂  I bet it would be good to can this, but I don't have time right now. But maybe when I run out of my current stock I'll try that. Overall a great recipe.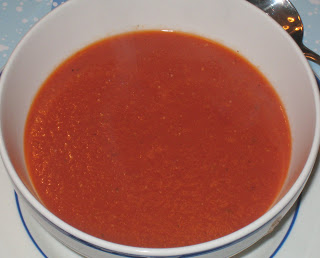 Crockpot Cream of Tomato Soup
(This cream of tomato soup is rich and hearty and very delicious. It can be used as a substitute for canned tomato soup with excellent results and cannot be beat when served with grilled cheese sandwiches. Mix and match any of the suggested herbs and spices for a marvelous soup. For a traditional blend we use 2 tablespoons Italian parsley, 1 tablespoon oregano, and 1 tablespoon basil.)
2 Tbsp. olive oil (I didn't add this)
1 large chopped onion
3 crushed garlic cloves
2 minced carrots (I just did a rough chop into slices)
2 pounds peeled and diced tomatoes (reserve and add all juices) (I used 1 large can of diced tomatoes and 1 large can of crushed tomatoes)
4 cups chicken or vegetable stock or broth
3 Tbsp. tomato paste
2 Tbsp. sugar (I added a little more than this)
1 Tbsp. lemon juice
Salt
Pepper
2-4 Tbsp. freshly chopped herbs (basil, oregano, rosemary, thyme, marjoram, savory, chervil, Italian parsley, mint, lavender) or 1-2 tsp. dried herbs or spices (Italian spices, basil, oregano, marjoram, thyme, cumin, curry powder, nutmeg) (I used dried Italian seasoning and garlic powder)
1 cup heavy cream (I used whole milk…what we had on hand)
Combine the oil, onion, garlic, and carrot in the crockpot. Cook on high, stirring frequently, until the onion softens. (This can also be done in a skillet.) (I skipped this step.) Add the remaining ingredients except for the herbs and spices and cream. Cover and cook on low for 8-12 hours (I cooked mine on high for about 7 hours). Add the herbs and adjust seasoning. Cool slightly and puree in small batches (I used an immersion blender). Return to the crockpot and add the cream. Reheat until piping hot, or else cool and chill before serving.