This post may contain affiliate links which won't change your price but will share some commission.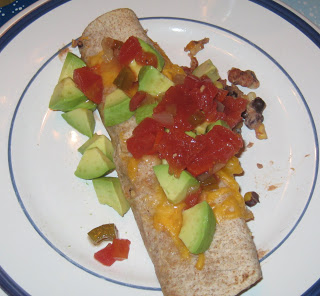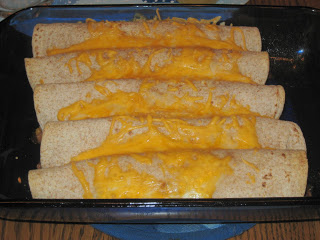 We tried a recipe from my SIL last night for black bean burrito bake. This was super easy to make and really good!!! We all liked it. Rebecca helped me make it (that's how easy it is) and she kept picking things out of the bowl to eat as we went. She LOVES beans…but they don't always love her 😛  She absolutely loved the filling. She had that plain for dinner with her tortilla on the side instead of together. The filling would work well as a dip. I followed my SIL's advice and added some of the cheese and salsa to the filling. And also added some chili powder, salt and garlic powder. I didn't add the chile. We like flavor, but not heat. This comes together really quickly and is a filling, healthy, meatless meal (it would be good with shredded chicken too). I didn't bother with the food processor. I just mashed the beans with a fork, so I could do everything in one bowl…mash, pour, mix. So easy and hardly any clean up. I easily got 5 burritos out of this. And had some extra for Rebecca to eat plain. I didn't quite add a full can of black beans. I did add a few pinto beans (Rebecca handles those better). A great recipe! I'm looking forward to having the leftovers for dinner tonight! I served it with sour cream, salsa and avocado. These are quite filling. One burrito was enough for me for a meal.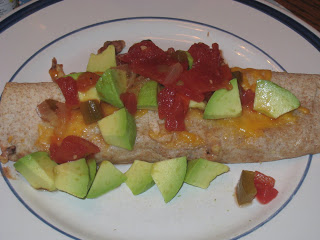 Black Bean Burrito Bake
1 (7oz.) can chipotle chiles in adobo sauce (I didn't add this)
1/2 cup reduced-fat sour cream
1 (15oz.) can black beans, rinsed, drained, and divided (I used 1/2 can for mashing and 1/4 can + 1/4 can pinto beans whole)
1 cup frozen whole-kernel corn, thawed
4 (8-inch) flour tortillas (I used 5 and could have probably done 6; I used whole wheat) (use corn tortillas or other GF tortillas to make this GF)
Cooking spray
1 cup bottled salsa (I added about 3/4 cup to the filling…some homemade (mild) and some organic corn and black bean (medium) and then served more on the side)
1/2 cup (2 oz.) shredded Monterey Jack cheese (I used some MJ and some reduced fat cheddar…I added some to the filling and some on top)
(I also added about 1 tsp. chili powder and a little sprinkle of garlic powder and salt)
Preheat oven to 350°. Remove one chile from can. Chop chile. Reserve remaining adobo sauce and chiles for another use. Combine sour cream and chile in a medium bowl; let stand 10 minutes. (I skipped this.)  Place half of beans in a food processor; process until finely chopped (I just mashed them with a fork). Add chopped beans, remaining beans, and corn to sour cream mixture (I added the whole beans, corn, salsa, cheese, seasoning and plain sour cream to the mashed beans…only used one bowl).
Spoon 1/2 cup bean mixture down the center of each tortilla. Roll up tortillas; place, seam side down, in an 11 x 7-inch baking dish coated with cooking spray. Spread salsa over tortillas (I didn't do this…gets a bit messy); sprinkle with cheese. Cover and bake at 350° for 20 minutes or until thoroughly heated (I baked 20 min. covered and then about 10 min. uncovered).