This post may contain affiliate links which won't change your price but will share some commission.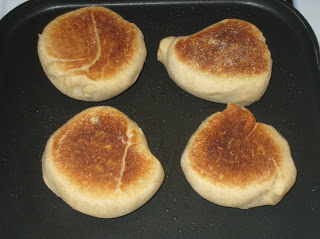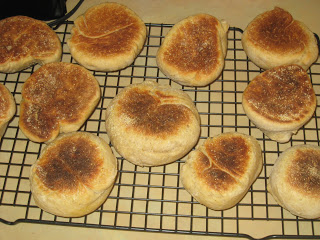 Yesterday I made my first attempt at english muffins. I don't eat them often, but Justin loves them. And it's one more thing I could save money on by making myself. I got the recipe from Pete Bakes. I've had it tagged for a long time but never made the time to try them. My first attempt…so-so. As usual I had rising issues. The flavor is good and they look ok, but they are quite dense. They are more like rolls than english muffins. I think one of my main issues with bread making is I'm not sure what dough is supposed to feel/look like when it is ready/when it has enough flour, enough moisture and has been kneaded enough. I need to get that first step right. Then the rest is easy. I'm thinking my dough wasn't moist enough or hadn't been kneaded enough. I used my stand mixer…which adds another factor since I'm still experimenting with that. Anyway, I'm glad I tried them. And I'm sure I'll give them another try at some point. I made a double batch (not so sure that was a good idea now :P) since I didn't want to go through all the work for just 6 english muffins. Justin had one for a snack last night. He said it had good flavor but was quite heavy (as you can see from the picture of one cut open). As usual Rebecca enjoyed them 🙂  She loves to munch on rolls, bagels, etc. She just carries it around with her as she plays 🙂  I guess I just have to keep practicing. Eventually I'll get good at bread making 🙂  The original recipe says it makes 6 english muffins. I think it would work well to make it into more than that…each ball of dough seemed like a lot. I thnk having less dough in each one would have helped with the baking/density issue too.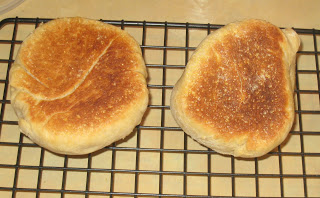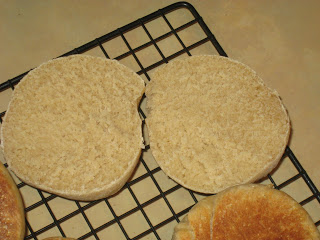 English Muffins
2 1/4 cups flour (I used a mix of all purpose and white whole wheat)
1/2 Tbsp. sugar
1/4 tsp. salt
1 1/4 tsp. instant yeast
1 Tbsp. shortening or butter (at room temperature) (I used butter)
3/4 – 1 cup milk (at room temperature)
cornmeal for sprinkling
In a large bowl, stir together the flour, sugar, salt and yeast. mix in the shortening and 3/4 cup of the milk. add the remaining milk if the dough is too dry. Transfer the dough to a floured surface and knead for about 10 minutes (I used my stand mixer for this). Place in a lightly oiled bowl and roll to coat. Cover the bowl with plastic wrap and let rise for about an hour (I let it rise for about 1 1/2 hours…still didn't rise much).
Divide the dough into 6 equal pieces and shape into balls. Lay parchment paper on a baking sheet and spray or lightly coat with oil and sprinkle with cornmeal (I used silpat). Move the dough balls to the baking sheet evenly spaced apart (giving them room to rise more). Cover the pan loosely with plastic wrap and allow them to rise for another hour.
Heat the oven to 350 F and heat up a skillet on medium heat on the stovetop. Brush the skillet with oil and gently transfer the dough balls to the skillet a few at a time. Allow them to cook on the skillet for 5-8 minutes, until the bottoms are nicely browned. Carefully flip and cook the other side for about 5-8 minutes more. They should flatten as they cook.
When the muffins look as if they are about to burn, remove them from the skillet with a spatula and transfer quickly to a baking sheet. Bake at 350 for 5-8 minutes. Do not wait until all of the muffins have been cooked on the skillet before moving them to the oven – as the first batch is baking, move the second batch of muffins to the skillet.
Transfer the baked muffins to a cooling rack and let cool for at least 30 minutes before slicing or serving. Store them as you would muffins you buy in the store – in a sealed ziploc bag in the fridge or freezer.