This post may contain affiliate links which won't change your price but will share some commission.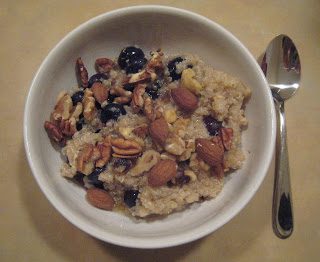 For breakfast this morning I made a new recipe that I found on 101 Cookbooks a long time ago. I had never thought of eating quinoa for breakfast. But I'm so glad I tried it. This is really good! And super easy too. And…I soaked yet another grain! While I was thinking about what I had to get out/prep for meals yesterday it dawned on me that you might be able to soak quinoa. So I looked it up. Sure enough. Same idea as soaking flour, etc. I put the quinoa in a bowl with water and a little plain yogurt last night. Then rinsed it this morning and followed the recipe from there, using a little less liquid. Hardly any hands on work required to make this breakfast. You just have to wait a few minutes for the quinoa to cook. We added raw honey, blueberries, flax seed and a mix of almonds, walnuts and pecans. Such a healhty start to the day. It'll be fun to try it with different toppings too. Anything you can do with oatmeal you can do with quinoa. I only made a half recipe. A perfect amount for Justin and me.
*Edited 2/9/11 to be NT compatible and adjusted to 2 serving recipe.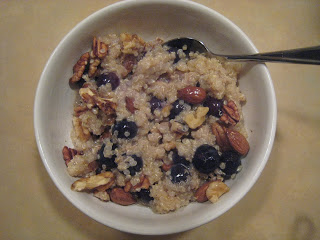 Warm and Nutty Cinnamon Quinoa
serves 2
1/2 cup milk
1/2 cup water
1/2 cup organic quinoa, (I soaked mine in water and yogurt over night – see directions below)
1 cup fresh blackberries, organic preferred (I used a cup of blueberries from our freezer, thawed)
1/2 tsp. ground cinnamon
Toppings:
pecans, walnuts or almonds (preferably soaked and dehydrate)
raw honey or real maple syrup
plain or vanilla yogurt
dried cranberries or raisins
butter
To soak quinoa:
Cover the quinoa in water (a couple inches over quinoa) and about 1-2 Tbsp. plain organic yogurt. Soak it over night and rinse it in the morning. Then proceed with recipe.
Combine milk, water and quinoa in a medium saucepan. Bring to a boil over high heat. Reduce heat to medium-low; cover and simmer 15 minutes or until most of the liquid is absorbed. Turn off heat; let stand covered 5 minutes. Stir in blackberries and cinnamon; transfer to two bowls and top with desired toppings.