This post may contain affiliate links which won't change your price but will share some commission.
Last night for dinner I made chicken nuggets. This isn't a new recipe for me. And I've actually posted this recipe before as fried chicken. But the last time I made chicken nuggets I made them this way (instead of just a simple breading and baking them) and we all LOVED them. And it's super easy. So I thought I'd repost as chicken nuggets. I served them with homemade honey mustard. SOOOO good. The next time I make these I might try to make a really big batch and freeze a bunch so I have frozen chicken nuggets on hand. Healthy convenience food.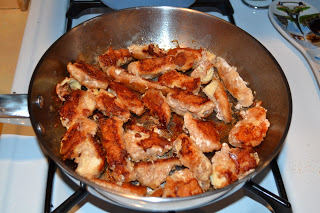 Homemade Chicken Nuggets
boneless skinless chicken breasts or tenders, cut into chunks of your size (can do nuggets or strips)
whole wheat flour
oil for frying (I use EVOO, lard and/or palm shortening)
Heat enough oil in large pan to cover bottom over medium heat. Coat chicken pieces in flour. Place in hot oil. Brown on one side (about 5 minutes). Flip over, reduce heat to low and cover. Cook for 50 minutes. Remove cover. Flip over and cook over medium heat for a couple minutes to crisp other side of nuggets.