This post may contain affiliate links which won't change your price but will share some commission.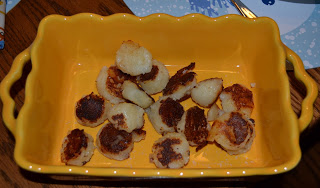 I also made tater tots for dinner last night. It's a recipe I saw recently on Heavenly Homemakers. I grew up eating tater tots a lot. But I haven't had one in many many years. And this sounded like a fun finger food to go with our chicken nuggets. These are pretty simple to make. And they turned out quite well. We all liked them (I tried to be good and only had 2…since I'm avoiding potatoes…but I at least had to taste them). This was the first time I used palm shortening for frying. That worked really well! Gives a great flavor. I'll have to do that more often. My potatoes didn't really shred in the food processor. It was mostly mush. But it still worked just fine. Next time I'll try to cook the potatoes sooner so that I can refrigerate them for a while before shredding. I made a pretty big batch. We ate some with dinner, and I froze the rest. I'll be serving some for dinner tonight. I'll see how it goes to bake them in the oven after being frozen. Overall a great recipe. And yet another healthy convenience food to have on hand. I love that my daughter has never had a chicken nugget or tater tot out of a box. She doesn't even know they exist 🙂  If it comes from the freezer…it's still homemade. And you can serve them with fermented ketchup to make them even healthier!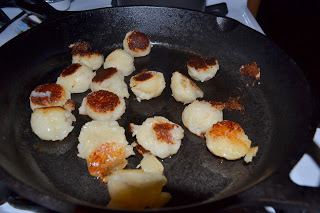 Homemade Tater Tots
3-4 medium russett potatoes (I used our red skin potatoes from our garden)
Oil of choice (Palm Shortening or Expeller Pressed Coconut Oil)
Sea Salt
First, scrub and bake your potatoes. Allow the potatoes to cool. Peel the potatoes.
Chop the peeled and cooled potatoes and throw them in a food processor to shred finely. I'd recommend using the "pulse" setting if you have one.
Next, heat some oil in a skillet (medium heat). You just need enough oil to barely cover the bottom of the skillet.
Use a small cookie scoop and pack in the shredded potatoes to make a nice firm ball. (If you don't really pack it in, the potatoes will just fall apart when you place the ball in the skillet.) Gently set the ball into the skillet. Allow it to cook thoroughly on one side before carefully turning it over. Press the ball down slightly when you turn it. Each side takes about 3-4 minutes to cook.
Remove tater tots once they look nice and crispy and golden brown. Sprinkle with desired amount of sea salt.
Serve right away or cool and freeze on baking pan.