This post may contain affiliate links which won't change your price but will share some commission.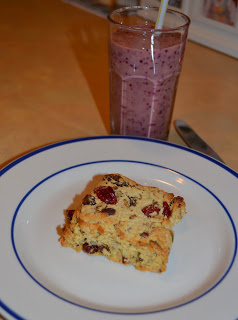 I tried another grain free breakfast recipe from Elana's Pantry this morning (she has lots of great looking recipes!). Muesli scones. Yum!!! I LOVE anything like museli/granola. And I love scones too. Put them together…and make them grain free…awesome! These are super easy to make. And they taste great. Justin and I both really like them. They are even better when you pile butter on top 🙂 I served them with blueberry, cherry, strawberry kefir smoothies. A wonderful, nutritious combo to start the day. Again, I substituted ingredients a little (I personally don't think agave is healthy at all, so I use honey). And I used what nuts/seeds/fruit I had on hand. I ended up with a combo of raisins, cranberries, crispy sunflower seeds, crispy pistachios, crispy peacans and crispy haszelnuts. Also, the recipe says it makes 16 scones…those would be pretty tiny scones. I made 9…and they still weren't that big. I baked 5 this morning and froze 4 to have on hand for an easy breakfast some other time. You can prep the dough ahead and stick it in the fridge to bake later too (I prepped it early and then baked them just before breakfast so they were fresh out of hte oven). LOVE this recipe. I will for sure make these again.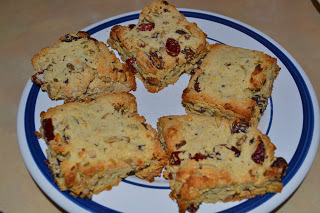 Grain Free Muesli Scones
2 cups blanched almond flour
½ tsp. celtic sea salt
½ tsp. baking soda
——————————————-
¼ cup dried cranberries
¼ cup dried apricots, cut into ¼-inch pieces
¼ cup sunflower seeds
¼ cup sesame seeds
¼ cup pistachios, coarsely chopped
——————————————–
**whatever combo you like, preferably with crispy nuts/seeds – I used raisins, cranberries, crispy sunflower seeds, crispy pistachios, crispy peacans and crispy haszelnuts.**
———————————————
1 large egg (size does matter as dough will not hold together with a small or medium egg)
2 Tbsp. raw honey (I used a bit more than this.)
1.In a large bowl, combine almond flour, salt and soda.
2.Stir in dried fruit, seeds and nuts.
3.In a small bowl combine egg and honey.
4.Stir wet ingredients into dry.
5.Use your hands to form dough.
6.Shape dough into a 6 ½ x 6 ½ square that is about ¾" thick.
7.Cut dough into 9 squares.
8.Bake at 350° on a parchment paper lined baking sheet for 12 minutes.