This post may contain affiliate links which won't change your price but will share some commission.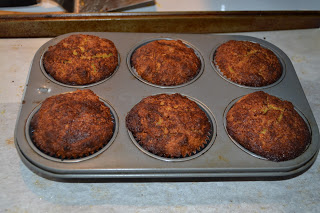 I tried another recipe from Elana's Pantry last night – Cinnamon Bun Muffins. Another hit! Who knew grain free baked goods could taste so good? 🙂 These were very easy to make. And all 3 of use loved them. Elana has a cream cheese frosting recipe to go with it. I didn't add any frosting. They are great without. I just piled on lots of butter 🙂 As usual, I substituted some ingredients (I'll post the way I made them). I used coconut oil for all of the oil, which makes these dairy free. But you could use butter instead. Her recipes says it makes 9 muffins. I made them a bit bigger and got 6. They took quite a bit longer to bake that way. They are fairly dense/filling with all of the almond and coconut flour. Definitely a nice treat. And they were a great complement to our omelet and roasted veggies. Next time I make them I might add some cinnamon to the muffin mixture to make them have even more cinnamon flavor.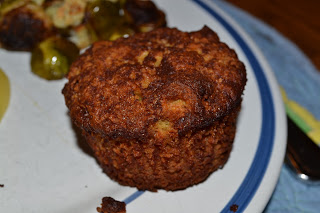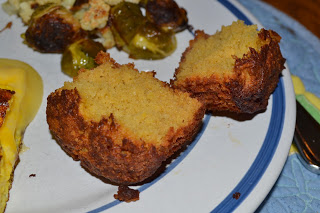 Cinnamon Bun Muffins
Topping:
2 Tbsp. honey
1 Tbsp. cinnamon
1 Tbsp. melted coconut oil or butter
Muffins:
1 cup blanced almond flour
2 Tbsp. coconut flour
1/2 tsp. baking soda
1/4 tsp. sea salt
1/4 cup melted coconut oil or butter
1/4 cup honey
3 eggs
1 Tbsp. vanilla extract
Mix topping. Set aside.
Combine almond flour, coconut flour, baking soda and salt in a medium bowl. In a large bowl blend together oil, honey, eggs and vanilla. Blend dry ingredients into wet and scoop a scant ¼ cup* at a time into lined muffin cups. Spoon topping onto muffins. Bake muffins for 8-12 minutes at 350.
*I filled the muffin cups at least 3/4 full and made 6 muffins. I baked them at 350 for 20-23 min.