This post may contain affiliate links which won't change your price but will share some commission.
Yesterday I made a batch of pesto. And I realized I don't have a recipe for it posted on my blog. I guess I don't normally use a recipe. I just toss in what I have on hand and taste as I go. But I figured it might be a good idea to post a base recipe. So I'll do my best to give quantities. Yesterday I used basil, spinach, walnuts and pine nuts. You can really use any combo of greens/herbs and nuts you like. Pesto is good on so many things (pasta, pizza, quiche, sandwiches, salads, etc.). I realized yesterday it's a great way for me to get more evoo in my diet. I LOVE pesto. I eat it plain…by the spoonful 😛  So I'll be making it more often now I think. The veggies are pureed, so easier on my tummy. Plus lots of healthy fat. And no sugar. And ready to go any time. Exactly what I need. I had it yesterday for lunch mixed with avocado and raw egg yolks. YUM!!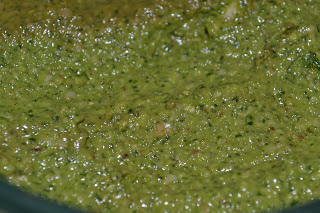 Pesto
1/2 cup crispy nuts (pine nuts, walnuts, pecans, pistachios or almonds work well)
3-4 cups spinach or basil (or any other green/herb you like) washed well
1/2 cup grated parmesan cheese
1 cup cold pressed EVOO (you may need more or less depending on what consistency you like)
celtic sea salt to taste
chopped garlic or garlic powder to taste
Process nuts and greens and seasoning in food processor until smooth. Pour in EVOO while processing until pesto is desired consistency. Add cheese and process again. Adjust seasoning if needed. Store in the refrigerator or freezer.