This post may contain affiliate links which won't change your price but will share some commission.
Today I have a guest post at Gapalicious! My first guest post. Go check it out. Thanks, Hannah for asking me!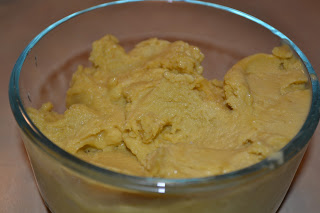 A little add on to my smoothie post…you can turn it into ice cream! Yesterday morning I made my usual smoothie. Then I put half of it in my ice cream maker. 15 minutes later…GAPS-legal, nourishing pumpkin pie ice cream 🙂  If you don't have an ice cream maker you can just freeze it as is. I've done that too. Still a tasty cold treat 🙂  And you can freeze it in single servings so it's all set to go when you want it…and so you don't go overboard 😉  Ice cream is my absolute favorite food…and the hardest thing I had to give up. But I'm finding ways to get my fix again…the healthy way.