This post may contain affiliate links which won't change your price but will share some commission.
Last week I made my first batch of yogurt. I decided to start with the easiest method. After all, if the easiest method produces good yogurt it makes sense to make it that way. Plus the easiest method keeps the milk raw and unheated. So you don't lose anything. I followed the method in the GAPS book. You basically put some yogurt into milk and let it sit. That's it.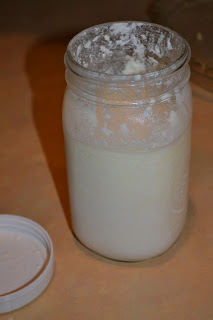 Did it work? Yes, it did. But it doesn't produce quite the texture we like. It was quite lumpy/loose (you can tell in the picture). It doesn't get smooth when you stir it. It tastes fine. And honestly I'd be ok eating it. But I think Justin and Rebecca weren't crazy about it. They have more of a texture issue than I do. So this will not be my regular method of making yogurt. But I might do it once in a while for myself or if I'm really in a rush and don't have time to make the cooked version. From what I understand this method is more unpredictable…meaning it will turn out differently every time. I bet this yogurt would work well for making cottage cheese.
I'm glad I tried this. Who knew making yogurt could be so easy?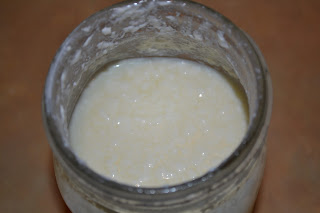 Raw Yogurt
1 quart raw milk
1/4 cup plain, live yogurt
Mix yogurt into milk. Cover. Place jar in a warm, dark spot to culture for 24 hours. Transfer to fridge.