This post may contain affiliate links which won't change your price but will share some commission.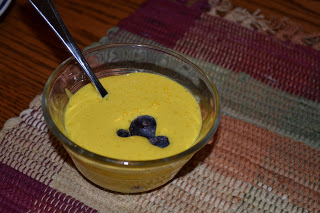 I often read through the recipes in the GAPS book. There really aren't many. And I don't know that I've actually made any of them aside from the ferments and cultured products. But there are a couple simple recipes I've been wanting to try. I finally got around to one of them last night…Russian custard. Sounds fancy. But really it's just egg yolks 😛 The recipe is for single servings, which is nice.
I made one serving for my snack last night. A nice little nourishing treat.
This is a great snack for those days where you want something just a little sweet. There is only a little bit of honey. And you can make it in minutes. You can serve it over fruit or mix things in. I added a few sweet cherries and some crispy almonds. It can also be used in recipes (*see note from GAPS below). I'm glad I finally tried this. Any way to get extra egg yolks down is good. By having a little treat I added 2 to my intake yesterday. Love it.
This is also a great substitute if you can't have yogurt. I like to add fruit and homemade cereal for a little parfait.
I use my hand mixer to make this. It gets thick and gooey. My whole family enjoys it. I have adjusted the recipe to my liking. This is how I make one serving for an easy breakfast or snack.
Russian Custard
serves 1
3 egg yolks
1 Tbsp. honey
Whip egg yolks and honey until it gets thick and almost white, about 3-5 minutes with a hand mixer, depending on the speed of the mixer.
*"Russian custard can be used instead of cream on fruit or you can serve it on its own with some chopped nuts on the top or pieces of fruit. It can also be used instead of cream in making cakes."