This post may contain affiliate links which won't change your price but will share some commission.
I've been watching The Next Iron Chef on Food Network. And on this week's episode someone made a bird's nest using avocado. I've seen it done with bread, zucchini, various things. But never avocado. I thought it sounded like a neat idea since one of my absolute favorite things to eat with egg is avocado. So I made one for lunch yesterday. Yum!! I don't think I've ever actually cooked an avocado. But they are quite good when they get warmed. This is a quick, nutritious breakfast, lunch or dinner. I let the yolk sit in the hole and the whites run over the edges to cook. I'll definitely make this again! I added a little extra butter and another egg yolk to mine for extra nutrition just before taking it out of the pan.
This post is linked to Fat Tuesday at Real Food Forager.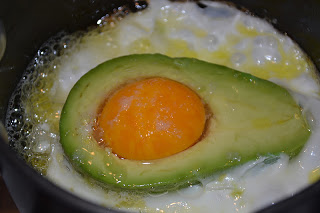 Avocado Bird's Nest
1/2 avocado
1 egg
butter, coconut oil or lard for cooking
Remove pit from avocado. Slice a little piece off the back of the avocado so it can sit flat. Make the hole large enough for an egg yolk all the way through. Heat butter in skillet. Add avocado. Crack egg over avacado so the yolk sits in the hole. Push the whites over the edge/onto the pan surface to cook. Sprinkle with salt. When the whites are cooked remove the bird's nest.