This post may contain affiliate links which won't change your price but will share some commission.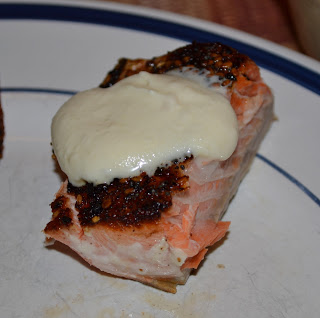 On Rachael Ray recently I saw her make a recipe called everything salmon. It's a play on an everything bagel…same flavors, different medium. It sounded good, so I made it for dinner last night. It was super simple. And Justin and I both really liked it. Rebecca wouldn't eat it…"it's too spicy!" For her spice means any strong flavor. I didn't have the ingredients for the sauce, so I made my own. Basically a sour cream and onion sauce (the "cream cheese" component). I think it paired really well with the salmon. Plus I got to eat lots of yummy, healthy raw sour cream with my dinner. Definitely a very healthy dish with fatty fish and cultured raw dairy. A keeper. The measurements are in Racheal Ray terms ("palmful"). Just season to your taste.
This post is linked to Fat Tuesday at Real Food Forager.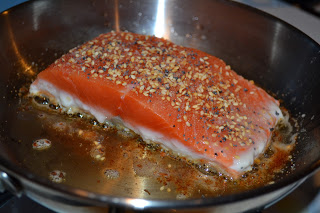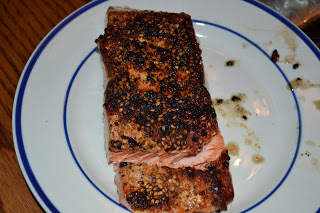 Everything Salmon
A palmful dehydrated onion
A palmful poppy seed
A palmful sesame seeds
A palmful garlic flakes
Sea salt and pepper
1 Tbsp. EVOO (I used lard and butter)
2 salmon fillets
——————————
3 scallions
1/2 cup low-fat sour cream or low-fat Greek yogurt
(I used raw sour cream and salt, garlic powder and dried minced onion)
Sprinkle salmon fillets with onion, poppy seeds, sesame seeds, garlic flakes, salt and pepper. In a small skillet, heat EVOO, one turn of the pan. Place salmon skin-side down and cook for about 2-3 minutes. Flip and finish cooking another 2-3 minutes, until cooked to your desired doneness.
While salmon is cooking, mix sour cream with scallions in a small bowl.