This post may contain affiliate links which won't change your price but will share some commission.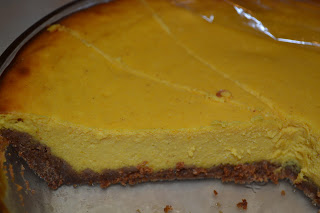 A while back I made a dessert called pumpkin cheese pie. It was pretty simple. Mostly buy a few things, mix them and bake them.
I decided to make it again for Thanksgiving this year…but revamp it to make it a lot healthier. My husband says I should call it pumpkin cheesecake to sound a bit more appetizing. And since I did a graham cracker crust instead of a pie crust that seems more fitting.
Since I was hosting Thanksgiving and only had so much time I did have to buy one canned ingredient…sweetened condensed milk. I would have liked to make my own, but I just didn't have time. I did find a great recipe for it, though, at Kitchen Stewardship. You could also replace the sweetened condensed milk with a little milk and honey.
The crust was made of homemade graham crackers, and the filling was made with homemade cream cheese (from our homemade yogurt) and freshly baked pumpkin. Topped with a dollop of homemade raw whipped cream. Perfect.
Since this makes a lot of filling I used the extra to make a mini crustless version. It's perfect if you are grain free.
This is a cross between pumpkin pie and cheesecake. It's the perfect holiday dessert!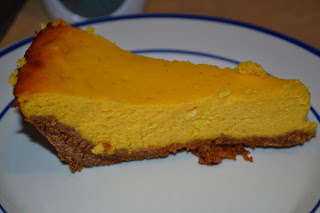 Pumpkin Cheesecake
2 cups graham cracker crumbs (I make the crumbs in the food processor)
1/2 cup melted butter or coconut oil (or a combination)
3 Tbsp. honey or cane sugar (optional…depends how sweet you like your crust)
1 cup cream cheese
2 cups pureed pumpkin
1 (14 oz.) can sweetened condensed milk (or make your own!) OR 1 cup whole milk + 2 Tbsp. honey
3 eggs
1 tsp. pumpkin pie spice
Prep ahead:
whole wheat graham crackers or gluten free graham crackers then make into crumbs
yogurt…then turn into cream cheese
pureed pumpkin
When ready to bake:
Combine graham cracker crumbs with butter/oil and sugar. Pat into pie dish. Put in refrigerator to get firm (this can be done well in advance).
Preheat oven to 350
Mix cream cheese and condensed milk until smooth (with mixer). Stir in the pumpkin, spice and eggs. Mix until well combined.
Pour into crust (this makes a lot…if you have extra pour it into a small baking dish to make a mini version).
Bake for 1 hour, or until knife inserted 1″ from the edge comes out clean. Refrigerate until ready to serve. Serve plain or with whipped cream.