This post may contain affiliate links which won't change your price but will share some commission.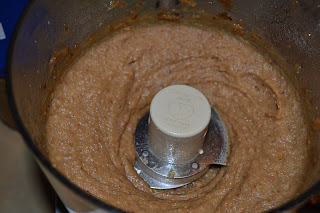 One of the moms at my MOPS table posted a link for a caramel dip from My New Roots on FB recently. It looked super easy and sounded good. Plus it's sugar free and GAPS legal!! Last week I finally got around to buying dates so I could try it. I made it yesterday morning. It was very easy to make. And it's good!! Honestly I like it better plain than using it for an apple dip. Although I did really enjoy it last night as a dip for dried apple chips. It's a great way to get your sugar fix without actually eating sugar. I'm glad I tried this. It's a healthy, delicious treat. Plus I discovered that I love dates!! And they are great natural sweeteners. I will be using dates more often for sure. I even reserved the soaking liquid and have been using it to sweeten smoothies and drinks.
Unfortunately Rebecca doesn't like it. I think it's a texture issue with her. I'm guessing if I made it a bit thicker (increased the ratio of nuts to dates) she'd like it. Maybe I'll try that next time.
This is a great treat for breakfast, a snack or a dessert.
This post is linked to Fat Tuesday at Real Food Forager.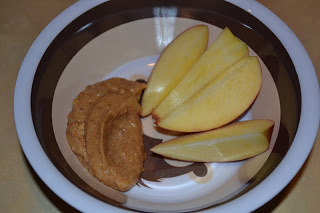 Salted Caramel Dip
Makes 2 cups
2 cups pitted Medjool dates
¼ cup raw nut or seed butter (almond, cashew, sesame tahini, sunflower) (I used some whole crispy almonds and some natural crunchy peanut butter…I used more than 1/4 cup)
4 tsp. fresh lemon juice
½ tsp. sea salt (or more to taste)
1 vanilla bean, seeds scraped (I used a little splash of homemade vanilla)
soaking water as needed
1. Soak dates for at least 4 hours in water.
2. Drain dates, reserving the soak water**.
3. Add dates to a food processor along with all other ingredients, except for soaking water. Blend on high until dates are smooth. Add soaking water, 1 tablespoon at a time until the desired consistency is reached (for a sauce to pour or drizzle, add more water).
4. Store in an airtight glass container in the fridge for up to a week.
**Reserve remaining soaking water to use as a simple syrup/sweetener.