This post may contain affiliate links which won't change your price but will share some commission.
If you are a fan of sweet and salty foods you'll love bacon wrapped dates! Add in some cheese for the perfect appetizer or snack.
I remember when I first tried a date about six years ago. I was blown away by the taste. It's like a perfect little dessert. No need to bake or add sugar. Bonus that dates have minerals for a little nutritional boost.
How to Use Dates
But you can go a step beyond simply eating dates. Stuff them with cheese and wrap them with bacon. A quick run through the oven and you have an amazing snack or appetizer.
Bacon wrapped dates are so easy to make. And SO delicious. Salty and sweet together.
You can eat these fresh from the oven or right out of the fridge. I prepped these a couple hours before dinner and then just put them in the oven later. Very handy.
Allergy Friendly Stuffed Dates
If you can't do dairy just skip the cheese or replace it with sunbutter. My kids love to snack on dates filled with sunbutter.
You can also add chopped dates to granola or try this sweet and salty snack mix. When you bake dates they taste even sweeter! My kids think they are candy.
Bacon wrapped dates make the perfect appetizer for any holiday or big game day. And they really couldn't be any easier. Your kids can help make them too (check out the Kids Cook Real Food eCourse if you want to teach your kids to cook).
How do you like to eat dates?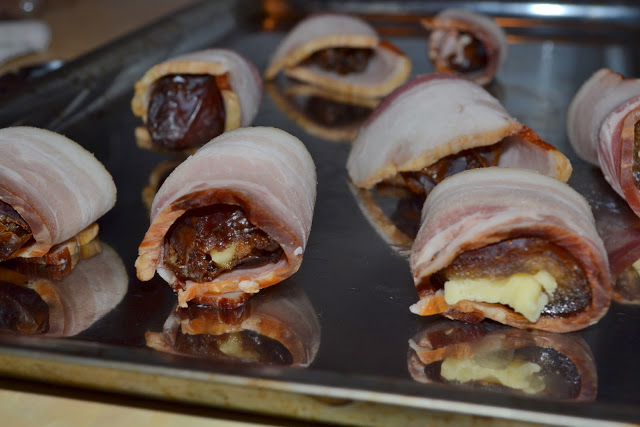 Prepped Dates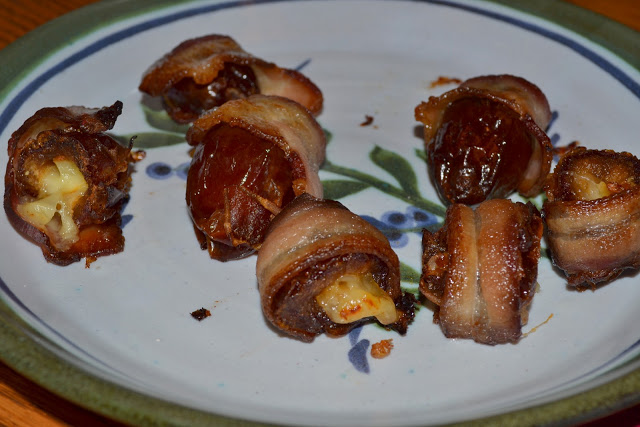 Baked Dates
Bacon Wrapped Dates
Ingredients:
Nitrate-free bacon
Dates, organic if possible
Any type of cheese, cubed (optional)
Instructions:
Preheat the oven to 350F.
Cut the bacon slices in half.
Pit the dates and cut them in half. Stuff with cheese if desired.
Wrap each date with a half a slice of bacon. Use toothpicks if necessary. Set on a baking dish.
Bake for 15-20 minutes, or until the bacon gets crispy and the cheese is melted. Remove the dates from the oven and transfer them serving dish.
You can store the unused dates in the refrigerator. They are even good cold!