This post may contain affiliate links which won't change your price but will share some commission.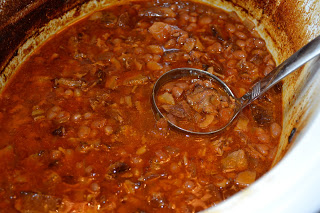 For lunch yesterday we had another new recipe for pork and beans from Cheeseslave. This is a very easy crockpot meal. And it is so good!! All three of us loved it. Although Abram wasn't too happy about me eating so many beans. He's not a happy camper right now. I guess I won't be eating this again for a while. Aside from that it's a great recipe. I didn't follow the directions completely. I simplified it a bit and made less. For meat I used cut up bacon and cut pieces of leftover pork chops. I'll post it the way I made it. This is a great, healthy recipe for baked beans. You could use just the bacon or probably even leave the meat out. I love that you use broth to add extra nutrition. I also stirred some coconut oil into my dish for more healthy fat. This would be great served with corn bread or over rice. You could even add in other vegetables for a more complete meal.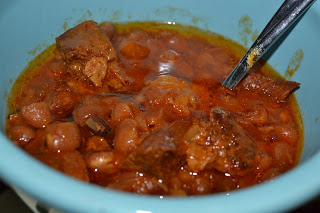 Crockpot Pork and Beans
2 cups dried navy beans
1/2 small onion, diced
1 Tbsp. butter
1 Tbsp. coconut oil
2 cups chicken broth or stock
meat – ham hock, diced bacon, cut up pork, grass-fed hot dogs (whatever you have on hand)
1/4 cup ketchup (I used homemade fermented ketchup…GAPS legal)
2 Tbsp. mustard
2 Tbsp. apple cider vinegar
1/3 cup total sweetener (honey, maple syrup, molasses…any combo…I used honey…GAPS-legal)
sea salt to taste
Soak beans in water and whey for 7-24 hours. Drain. Rinse. Cook beans in water for about 30 minutes, until just starting to soften (skim foam from water when it comes to a boil). Drain.
Add butter, coconut oil and onion to crockpot. Turn to high. Let fat melt. Add beans and remaining ingredients (except hot dogs). Cook on high 6-10 hours. Add more stock if it gets too dry. Add sliced hot dogs (if using) about an hour before serving. Remove ham hock if using.